MP wants to say thanks for returned bags after they were taken outside apartment.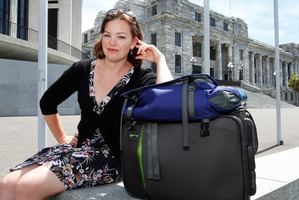 Auckland Green MP Julie-Anne Genter is trying to find a woman who retrieved her luggage after a driveby theft from a bus stop.
Ms Genter left the luggage unattended at a Mt Eden Rd bus stop while she went to get her cellphone from her nearby apartment. When she came back, the bags were gone.
"I suppose I felt secure. It was a sunny, still evening. Mt Eden Rd was quiet and warm after a long Anniversary Day. I was only running upstairs for two minutes, and my flat is just above the stop," she said.
In a panic, Ms Genter asked a man at a bus stop across the road if he'd seen anything.
He pointed to an old red hatchback pulling out down Lovelock Ave, a side street off Mt Eden Rd.
Ms Genter sprinted after the car but couldn't keep up.
"The car squealed as they sped up down the hill and around the sharp right turn. I was trying to make out the licence numbers, but it was hopeless as they disappeared from view."
She said a woman with three children in an SUV stopped when she saw Ms Genter running.
Ms Genter asked her for help.
"She said 'yes, I can drive and have a look, but it may be too late, I doubt we can do anything'."
Nearly in tears, Ms Genter wasn't hopeful the police would be any use because she hadn't seen the registration plates or the make of the car.
"Before I could begin to cut my losses, and come to terms with the fact that I had lost the bags and everything in them, the woman in the SUV pulled up. The woman smiled broadly and said, 'it's okay, we've got them'," said Ms Genter. "She was very mild-mannered and calm."
Ms Genter said that before she could get the full story the woman had left.
She said she was grateful the people who'd stolen the gear gave it back, but mostly wanted to find the woman and her three children who pursued the red car to get it back.
"She was gone so fast afterwards, I didn't really get the chance to thank her properly. I was in shock and I hadn't come to terms with the fact I'd lost my stuff; I was really upset with myself.
"It really means a lot to me, it wasn't like the stuff was irreplaceable - but it was lots of little things that you like that you use a lot. She was obviously off somewhere and had taken the time to do this for me."
Ms Genter caught a later flight to Wellington. APNZ
- APNZ