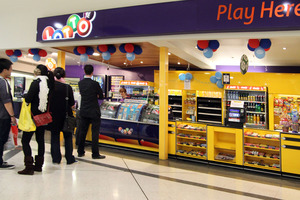 New Zealand's newest multi-millionaires have revealed their big indulgence since their $15.7 million Lotto win - Trade Me auctions.
The Hokitika family, who want to remain anonymous, said the win followed a premonition.
"I actually had a dream about three weeks ago that we won and now that we have won I still feel like I'm dreaming,'' said one of the winners.
The family took away $15m for Powerball first division and another $769,000 on Lotto first division in Saturday's draw.
After letting the win sink in for a few days, they claimed their prize money today and spoke for the first time about their plans for the "once in a lifetime'' windfall.
Helping out immediate family and a holiday are on the wishlist, but that's about as big as it gets - at least so far.
"My watchlist on Trade Me is getting really big,'' laughed one of the winners.
Despite the win, they have no plans to retire and have yet to celebrate their massive win.
''(We) feel incredibly responsible to look after this money and ensure that it's used for good purposes and to help people in genuine need, where possible,'' the family member said.
In the long-term they plan to set up a trust to support members of the community needing help to improve their quality of life.
The small West Coast town has been abuzz with speculation since the win, but the winners have managed to keep their identity secret and plan to keep it that way.
They have been playing Lotto for three years using the same numbers every week - a combination of birthdays, favourite numbers and ages. The winning ticket was bought online using $23 they had won in the Lotto draw a week earlier: "So it was sort of `free' how's that for a return on our investment''.
When they checked the numbers after the draw they were stunned to see they looked familiar.
"It was an amazing moment,'' said one. "We jumped up and down and screamed and hugged each other. We didn't sleep at all that night - and have barely slept since.''
It has been a lucky month for the town, with three West Coast siblings, including one from Hokitika, winning $500,000 in Lotto first division and another winner taking away $11,269 for second division with a ticket bought from Hokitika New World.
- APNZ