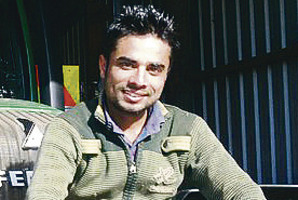 Police are due to release the results of a post-mortem conducted yesterday on the remains of a man found in bush near Gisborne - believed to be the body of missing Indian man Amandeep Singh.
The body was found at Kaiti Beach. The area was returned to the community on Saturday afternoon after police completed their scene examination and people were free to use the area again.
Cordon tapes around the crime scene area were removed.
The body was found concealed in scrub and small trees only a few metres from the old road to the end of the beach, about 100 metres from the road-end bollards.
An area of about 50 metres of undergrowth was completely cleared by police hunting for clues to assist with their inquiry.
The vegetation was stripped away and stacked on the seaward side of the road.
The body was removed from the scene and taken to the Gisborne Hospital morgue initially, from where it was taken out of town for the post-mortem examination.
An appeal started today for funds to assist the family of Amandeep Singh.
Appeal organiser Manu Caddie says it is an opportunity for the Gisborne community to show support.
"People are upset and disturbed by what's happened.
"It is my understanding Amandeep was married and his wife lives in Tauranga.
"They got married a year ago, a family member has told me.
"Amandeep spent Christmas with his wife in Tauranga before returning to Gisborne.
"She had been relying on him for income."
A workmate this morning confirmed Mr Singh's marital status.
Respected long-time member of the Indian community in Gisborne, Harjinder Singh, says the whole Indian community here is in shock over the apparent murder.
'The people cannot believe it and everyone is anxious to know what happened."
- The Gisborne Herald