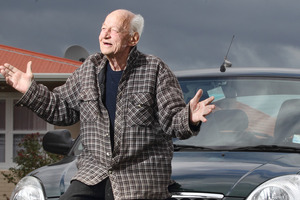 The teenager who stole an 82-year-old's car has been sentenced to five months' home detention.
Janaya Ashby, 17, appeared before Judge MacKenzie at Rotorua District Court this morning. She had previously admitted 14 charges, including burglary, stealing a car and dangerous driving.
The car belonged to Gavin Hayes, 82, who became the recipient of goodwill from Rotorua residents as a result of the offending, which shocked the Rotorua community and made national headlines.
Mr Hayes had been targeted by a group of teenagers, who were stealing from him. His car was stolen twice and was written off after the latest theft.
The Rotorua pensioner was upset at losing his independence and not being able to visit his late wife's grave.
The story led to Mr Hayes being donated a car and more than $4000 was raised for him.
After receiving a permanent car from Rent-a-dent, which he described as "beautiful'', Mr Hayes said he planned a trip to Taumarunui to visit his wife's grave.
For more articles from this region, go to Rotorua Daily Post