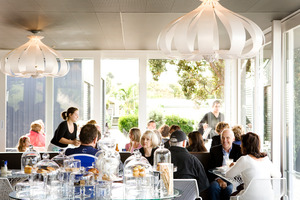 A decade after public holiday surcharges were introduced in restaurants, several eateries have "given up" trying to enforce the added costs.
Of the 30 Auckland and North Shore restaurants or cafes surveyed by the Herald on Auckland Anniversary Day yesterday, 14 had surcharges and 16 did not.
Restaurant Association national president Mike Egan said the number of eateries bumping up their prices would have been higher when the Holidays Act was introduced in 2003.
"It's like restaurants have given up and are prepared to lose money on that day, mainly to keep their regular customers happy.
"Restaurants have taken on board the feedback - charge more to the other customers for the rest of the year, so we can dine and have our coffee at the same price on a public holiday," Mr Egan said.
The act says anyone working on a public holiday must be paid time and a half and get a day off in lieu. To cover the extra costs, several cafes and restaurants introduced levies of up to 25 per cent.
Owners are free to determine the surcharge.
The highest surcharge found yesterday was 20 per cent at Mecca on the Viaduct. The 13 others with charges - including celebrity hang-out SPQR in Ponsonby and Italian eatery Portofino in Mission Bay and Parnell - charged 15 per cent.
Several restaurants that were usually open on a Monday had messages on their answer phones saying the were closed for the holiday. Eight were called in Parnell before one answered the phone.
Of the 15 restaurants surveyed outside the city - in towns that also celebrate Auckland Anniversary Day - four had surcharges of 15 per cent. They were in Whangarei, Orewa, Taupo and Cambridge.
Despite most Viaduct restaurants charging extra, eateries there were packed yesterday.
Mecca manager Hakan Inan said some tourists were confused when asked to pay the surcharge.
"We have had a few problems. Kiwis understand how it works, but tourists want to know, 'What is this surcharge, what is it for?' They don't want to pay it."
Russians Vasili and Lana Danilov, who live in Red Beach on the Whangaparaoa Peninsula, were having lunch with their daughter Vika, 11, at Mecca. Mr Danilov was surprised when the Herald told him about the 20 per cent surcharge, and asked what it was for.
"I actually forgot about this ... Auckland is very expensive; everything here is expensive."
Alan Nanson, who was dining with his partner, Tanja Bandzova, said he expected to pay more.
"While we're enjoying a holiday, the staff have to work. Restaurants are just trying to cover the costs."
Some restaurants advertised the fact they had no surcharge in an attempt to attract customers, with large signs at the door.
Other places did not advertise the fact they did have extra charges. But a Commerce Commission spokeswoman said they were not required to by law.
Who's charging
The Herald surveyed 30 restaurants in Auckland. Here are the ones that added a surcharge:
20 per cent
Mecca, Viaduct Harbour
15 per cent
Pescado, Wynyard Quarter
Portofino, Mission Bay
SPQR, Ponsonby
Portofino, Parnell
Marvell Grill, Wynyard Quarter
Degree, Viaduct Harbour
Soul Bar & Bistro, Viaduct Harbour
Monsoon Poon, Auckland central
Manuka Restaurant, Devonport
Takapuna Beach Cafe, Takapuna
Waterfront, Viaduct Harbour
Riva Bistro, Cafe & Bar, Mission Bay
Occam Cafe and Restaurant, Grey Lynn.