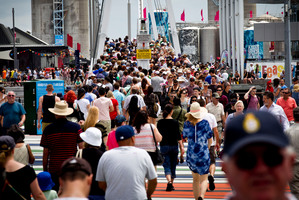 Celebration events in Auckland for Anniversary Day were a hop, skip and a jump away from one another this year as tens of thousands packed the waterfront.
Wynyard Quarter was the centre of much of the celebrations with people eating their way around the Auckland Seafood festival at Halsey St Wharf, music lovers partying at Silo Park for the Laneway festival and others taking in the International Buskers Festival at the Viaduct.
On the Waitemata Harbour for the annual regatta, the Coastguard reported fewer boats on the water than in previous years. There were 20 calls for assistance - most of them related to mechanical problems, Coastguard spokeswoman Georgie Smith said.
Regatta chairman Eric Mahoney said the 15 knot easterlies made for perfect sailing conditions for an event that he cheekily suggested had a better pedigree than the America's Cup. The annual event - which went back to September 1840 before a change of dates - was 11 years older than the more famous yachting event.
Highlights for him included the yacht Jessie Logan, which dates to 1878, and M class yachts, 18ft kauri yachts which are 90 years old.
Sloops, racing keelers, multihulls, sailing dinghies, waka ama, restored classic yachts, an armada of more than 20 vintage tugboats and America's Cup prototypes all took part.
"It was history on parade out there today," he said.
Heart of the City Association chief executive Alex Swney said although figures for crowds over the weekend weren't available yesterday, he expected final counts to be in the tens of thousands, since the Seafood Festival alone last year attracted 25,000.
Clustering events around the waterfront had created a party atmosphere. "It has been going off. Someone said to me it's like the Rugby World Cup. Collectively, they've created a wonderful vibe," he said.
"You'd have to say that in combination with the weather this year - why would you leave town?"
In the Waikato, the Parachute Music Festival was a sellout with 17,500 celebrating at Mystery Creek.
- staff reporter