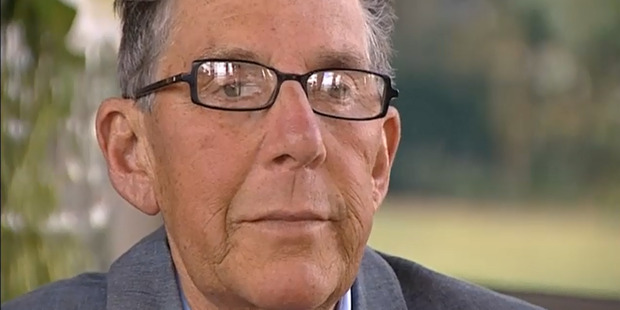 Sir Paul Holmes admits he is scared of death, but is at peace with himself - and his former wife, with whom he had a very public and messy divorce.
In an interview with the Sunday programme last night, the 62-year-old reflected on his life and a career that has spanned three decades.
Asked whether he was scared, he did not hesitate to answer.
"Yeah. The scariest thing is going to bed and closing your eyes and not knowing if you're going to wake up again - that's my scary thing.
"I'm a bit frightened, but I plan to increase my peace with God. I'm worried about what's over the hill. I don't know what there is."
Sir Paul, who has suffered from prostate cancer, said his urologist had indicated there was little more they could do for him.
Speaking about his former wife, Dr Hinemoa Elder - mother of their daughter Millie and son Reuben - Sir Paul said he had "hurt a very brilliant, beautiful and loving woman".
The marriage ended after Sir Paul had an affair. But he revealed in last night's interview that Dr Elder, a psychiatrist, had visited him recently and that they had made peace.
"We haven't had the best of relationships for the last 10 years or so. She said she would like to visit and pay her respects to the old bugger."
They spoke for about 15 minutes "and peace was made. She's happy."
Asked if he felt cheated over his health and prognosis, Sir Paul replied: "Yeah, by myself ... too much hard living, too much booze, too many beautiful women."
But he had few regrets, and paid tribute to his wife, Lady Deborah, for her ongoing love - "A day doesn't go by which I don't think about how much I love Deborah, how much she has to give, how dedicated she is to this relationship" - and to his late mother, Chrissie, who he said was the most influential woman in his life.
There was also a special mention of his daughter, Millie. Although she was not his biological daughter, the pair were very close and he always regarded her as his own.
"Years ago, one day, she turned around and called me daddy. She was about 4 or 5. I thought, 'Wow, that's nice'."
He had stood by her during her run-in with the law over P, and she had forgiven him for betraying her mother. "I love her. We have had to fight for her, from the forces of damnation."
He said he had spent too much time in his work and could have been at home more with his family.
Asked about the most memorable story he had worked on, he could not go past that of Aids sufferer Eve van Grafhorst, the little girl who touched the country's hearts.
Sir Paul said he wanted to show people that being around someone with Aids did not mean they would get sick.
"I love people. I really worked hard and I did it well, I think. There were some slip-ups and there were some bloody stupid mistakes.
"I upset some bad people - which I don't mind - but I also upset some good people."
Clips of the infamous Dennis Conner interview were shown and Sir Paul admitted he had been trying to get the US yachtsman to walk out of the studio all along. "I wanted some theatre ... I wanted him to walk out."
Sir Paul announced his retirement last November. He was made a Knight Companion of the New Zealand Order of Merit at a special ceremony at his home in Hawkes Bay this month.
The TV interview took place in the days after the ceremony and before he was readmitted to hospital, where he remained for a few days before being discharged late last week.
The interview was praised on social media as reflective, inspiring and moving. Many said they wept.
Musician Anika Moa said the interview was "incredible and sad".