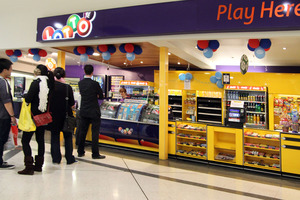 Three Lotto players probably thought they hit the jackpot when they won first division on Saturday night - only to find they had won $76,923 each.
While first division winners might expect a payout of more than $250,000 and up to $1 million, there were 13 winners at the weekend.
And 10 of those 13 were the same Hokitika family, who use the same numbers every weekend. The family also had the winning Powerball number, securing a $15.7 million payout.
By using the same numbers in each line, they reduced the prize pool for the other three first division winners - from Auckland, Lower Hutt and Nelson - to $76,923 each.
Typically there are about four first division winners, who can expect a prize of about $250,000 each. The largest number of first division winners for one draw was 38 in September 1993, when each received $35,937.
Hokitika's new Powerball multimillionaires wanted to keep their identities a secret, said NZ Lotteries spokeswoman Katy Atkin.
The winning ticket was bought online. However, the family were said to be in disbelief after they checked their numbers.
"They found out [on Saturday night] so they've had a bit of a sleepless night," Ms Atkin said.
- APNZ