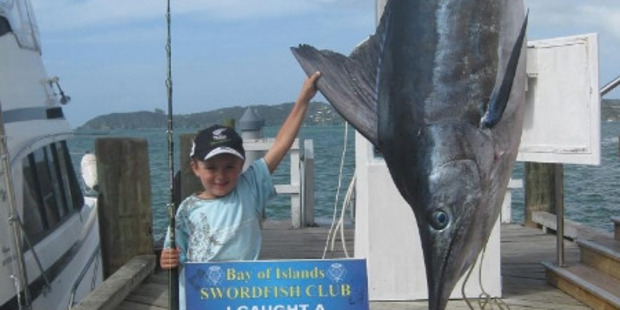 The big one didn't get away from 7-year-old Hunter Scott, whose 133kg striped marlin is the talk of the Bay of Islands Swordfish Club.
The Kerikeri boy - who weighs just 23kg himself - was out fishing with his father Adam and grandparents Keith and Christine when he felt the pull of what he thought might be a big fish just off Nine Pin Rock.
"We thought it was a little shark but then Granddad shouted out it was a marlin. He saw it jump just after we hooked it," said Hunter.
"First the line was going out ... and then I did a few unwinds but then it took all of that line back out ... I did a few more winds and dad said it was 30m of line left so I kept winding and you saw this thing coming towards the boat."
It took an hour and a quarter to haul in. His arms took a beating.
"They're not sore now but I was really tired afterwards."
His dad told him they'd tag the marlin if it was under 110kg but when it came alongside the boat it was clear that the fish was bigger. It weighed in at 133.4kg.
Hunter reckons the best part of the day was when a well-known local came to congratulate him. Snooks Fuller, who founded the Fuller ferry company, told him he'd done well.
"He's a legend."
Mr Scott said his son hauled the fish in by himself.
His family are waiting to hear from the Sport Fishing Council to see if the catch is an under-11 small fry national record. Hunter has been fishing with his family since he was 3.