Auckland business leaders say private companies' CBD casual parking rates are at a tipping point.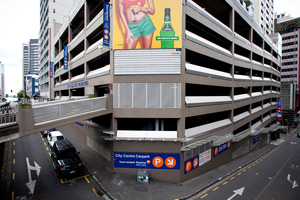 New Zealanders living in the country's largest cities are paying up to $32 more for casual private parking than those in smaller towns.
In Auckland, the private carpark company duopoly of Tournament and Wilson have come under pressure to lower their rates to match the council's.
Four hours' casual parking at one of Tournament's sites in Auckland's CBD costs $32 ($4 per half hour) - the same as the carpark's daily rate. And in Wellington, the same amount of time costs $40 ($5 per half hour).
But in Dunedin, four hours costs only $8 at a rate of $2 an hour.
Auckland Councillor Cameron Brewer said prices were approaching a tipping point, given some of the parking charges private providers were now demanding.
"The reality is at this rate, many people will get sick of paying the top dollar and simply head to the malls where there is free and ample parking."
Mr Brewer, chairman of the Business Advisory Panel, said the council had "done well" to reduce its charges in its three main parking buildings in the central city.
On November 19, Auckland Transport made its first changes to pricing since 2005. The change was part of an effort to steer people away from on-street parking for long periods in the central city and towards parking buildings.
Parking in the city after 6pm used to be free but the start time is now 10pm. Auckland Transport also reduced the peak casual hourly rate from $5.50 for the first two hours and $4 or $5 per hour thereafter to $3 an hour in the Civic, Downtown and Victoria St carparks. A daily maximum charge of $17 replaced the old maximum of $29.
"However if the private providers keep ramping theirs up, they run counter to the mayor's vision of creating a world-class city centre. They will only put people off the CBD," Mr Brewer said.
Heart of the City chief executive Alex Swney said affordable parking was essential because it drew people into the city.
"Parking needs to be part of the city rather than part of the problem," he said.
Mr Swney said Tournament and Wilson would be forced to lower their rates to reflect the changes the council made to its parking fees.
"This time next year, I bet those parking companies will have dropped their rates to meet the council's - they have to, otherwise they'll lose customers," Mr Swney said.
Tournament's national business manager, Matt Ryan, said the "huge disparity" in pricing across the country was due to demand on parking resources.
"In saying that, the carparking market across the main centres is actually very competitive ... so the reality is that if a parking company prices too high, customers will walk."
Mr Ryan said the Auckland Council's plan had become "very focused on short-term parkers in an attempt to increase patronage in the CBD".
"We applaud this move as it is breathing more life into the CBD. However their strategy does not appear to provide any recourse for daily commuters who actually comprise most CBD parkers.
"The reality is that until Auckland's public transport services are improved, motor vehicles shall still pour into the city each morning at increasing rates, and these commuters do need to be catered for - and that's where the private parking companies have a significant role to play."
Mr Ryan said more than 85 per cent of Tournament's daily parkers pay Early Bird rates which are cheaper than Auckland Council's daily rate of $17.
Wilson Parking did not respond to the Herald's request for comment.