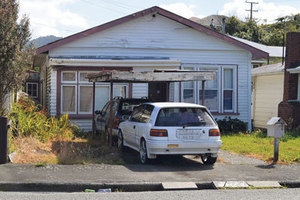 A Greymouth house sold last year for the bargain basement price of $2200.
The 1930s bungalow at 19 Thompson Street, located on a 291 sq m leasehold section.
Quotable Value registered valuer David Shaw confirmed the house sold for $2200 in May.
The rating valuation for the house was $70,000, but that was based on the land being freehold. It is on a Mawhera Incorporation lease, the biggest landlord in Greymouth.
"The owners are only buying the improvements on the property and the right to have the interest and lease," Mr Shaw said.
According to Coastal Valuations, the property last sold in 1997 for $28,000.
The house belonged to scrap metal merchant Gavin Case, who had to spend thousands of dollars repairing it after vandals stripped the hot water cylinder and wiring and sold them to his own scrap yard.
It was among four properties he bought in Thompson Street and was now renting out.
"I had a golden opportunity to buy something cheap," he said today.
He was making money on the rent and planned to sell the houses after five years.
Cheap houses on leasehold land are not uncommon.
Down the road, the house at 8 Thompson Street sold for $10,000 last August, and the former Grey District Wheelchair Van Society garage, at the corner of Thompson and Alexander streets, went for $25,000. Another house in nearby Eldon Lane was selling for $20,000.
Some homeowners are renting out the houses to cover the leasehold rentals, which nearly tripled in 2011.
"In effect, because the rental for the land is a market-based rental, in some older homes it may be that the rental they can achieve by renting the house out is not a lot more than what they have to pay for the ground rental," Mr Shaw said.
Once a house got to a condition where it was difficult to rent out, the owner might be willing to sell at a large discount to get out of paying the rates, he said.
"With residential properties through Mawhera Incorporation, they are looking at freeholding quite a few of them. At the moment several in central Greymouth are going through that process.
"In the past, lessees have just walked away."