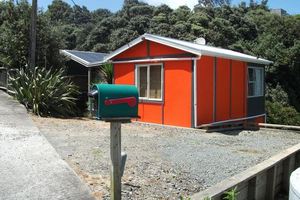 Dreams of owning a traditional Kiwi bach are once again within reach as coastal property prices lag far behind cities.
Coastal properties within a two-hour drive north of Auckland are going cheap as scores of properties developed near beaches sit waiting to be built on.
Harcourts New Zealand chief executive Hayden Duncan said the market had been in the doldrums for five years with a glut of subdivided coastal property within a two-hour drive north of Auckland.
Sections within walking distance from some of Northland's popular eastern surf beaches are listed for as little as $150,000. On the western seaboard properties start at $100,000.
A fibrolite bach, complete with brightly-tiled long drop, on the northwest Baylys Beach is on the market for $165,000. Bach owner Rolf Weight said he was selling to help reduce the mortgage on a home he's building for his family in Dargaville. The bach became an investment property after his family outgrew the small dwelling.
Duncan said buyers were spoiled for choice, especially when buying lots to build on.
"There was a study done on the available subdivided land in 2009 in between Auckland and Whangarei. On the current rate of sales there was 40 years worth of sales without any new stock coming to the market just based purely on land that had been subdivided through that area through the boom," he said.
Strapped buyers - crippled by the 2007 global financial crisis and quick to offload coastal homes to reduce debt - are finally starting to return to the holiday market giving coastal realtors their best Christmas sales season in five years. "Our sales teams in our offices in coastal and provincial markets are significantly happier today about the activity in those markets than they were 12 months ago," said Duncan.
However, to buy an existing bach was probably a little tougher as the market had not been as hard on those properties and prices were bouncing back. Absolute waterfront properties still achieved strong prices and weren't an affordable holiday home option for most people, said Duncan. But on the other side of the island, realtors at Dargaville's Roper & Jones said the traditional fibrolite bach is one of this summer's sought after properties.
"We've got more expensive homes as well but there's still that entry level bach available,"said director Jill Wilson.
Bayleys North director Mark Macky said Northland's coastal properties were attracting strong buyer interest.
Macky said Auckland property buyers were surprised how affordable coastal property was in Northland.
"We're actually getting a lot of interest from buyers who sold their northern boltholes during the recession but now that the purse strings are loosening, they're coming back.
"We have more inquiries and deals happening at present for this time of the year than any of the last five years," he said.