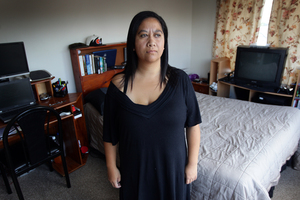 A woman says she feels unsafe at home after waking up one night to find a pizza-delivery man at her bedroom door.
Wikitoria Pou, of Avondale, said a Pizza Hut delivery driver came into her home on November 25 just after 10.30pm while her children slept and her husband was in the shower.
Pou said the driver couldn't have rung the door bell, or knocked, before he made his way up a staircase inside the house. The family hadn't ordered any food from the company that night.
Pou said she awoke to a voice at her bedroom door. In the shadows, she saw a male silhouette. She yelled out before recognising his uniform. Pou said the man fled.
Pou said she was "shattered" and had since undergone counselling. She approached police the next day and was later told the driver was given a formal warning.
She said Pizza Hut seemed unconcerned. "I told them, he actually came into my house. He was at my bedroom door while I was asleep and the kids were asleep in bed. This is not something I'm okay with."
In a statement, the company said: "The incident was looked at by both the police and Pizza Hut with both concluding that the driver had made a mistake with no sinister overtones. As part of the process to ensure a similar error would not be made again, Pizza Hut communicated to all its drivers the safety policy and procedures around deliveries that cover behaviours at a customer's address."
However, Pou said a Pizza Hut area manager told her the company had spoken to the driver, disciplined him, and may have suggested retraining.
"That's fine for that employee. However, what about me?"
Staff at the Avondale Police Station confirmed a complaint had been laid but were unable to provide information about any investigation.
Pou said she felt like a prisoner in her own home. "I've spoken with my husband about possible legal action. I don't think Pizza Hut should get away with just warning their driver."