Auckland's 173-year-old regatta is a great way to celebrate the joy of living in a city surrounded by water.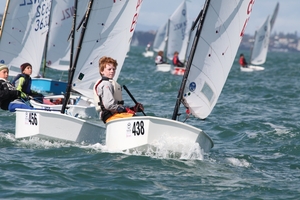 It is no coincidence that the first Auckland regatta was held on the day the city was founded: September 18, 1840.
Few cities can have been as influenced by the sea as Auckland. This Monday we celebrate our connection to the sea in a way other harbourside cities and towns must surely envy. Literally hundreds of boats of varying sorts and sizes will take to the water, in a spectacle that is surely unequalled anywhere else.
Regatta events will be held at 16 locations around the city and the dilemma for those not taking part will be which ones to watch. On the harbour, grand prix racing yachts will sail among a fleet of classic yachts (many more than 100 years old); family racer-cruisers and a colourful armada of tugboats, many of which are still gainfully employed.
Off the Viaduct, dragon boat racers, with their dragon heads and drummers, will thrill the watching crowds; along the bays (on both sides of the harbour bridge) large fleets of centreboard dinghies will compete (several for provincial titles). Further afield, in places such as Manurewa's Wattle Farm and at the Marine Association pontoon at Westhaven, remote-controlled yachts will vie for line honours as competitively as those on the harbour.
Off North Wharf, in the relatively new Wynyard Quarter, waka ama will demonstrate their racing skills before moving to the Tidal Steps where members of the public will be invited to "have a go".
Although the regatta is primarily a sailing one, powerboats will also play their part. At noon, some of the fastest will take off from Orakei Wharf, blitzing around the harbour at high speed.
Meanwhile, at their more sedate (but no less impressive) pace, the tugboat fleet will again provide the day's highlight for many spectators. Usually found working singly or in pairs, on Anniversary Day they tend to hunt in a pack, up to 20 strong, spectacularly churning the water as they pass.
This year's fleet will include the preserved vintage steam tug William C Daldy (built in 1935 and weighing nearly 346 gross tonnes), Ports of Auckland's operational tug, Daldy (launched in 1977), a number of "little toots" (tiny tugs like the Kapai and Kaipara) and a newcomer, the partially restored 73-year-old Tuna. Launched in 1939 for the Tokomaru Harbour Board, she is now based on Kawau Island undergoing major restoration.
Tuna was in a badly neglected state when owner Jill Hetherington found her and, although specialists have been engaged to help with the difficult parts, Hetherington is doing a lot of the work herself, fixing leaks below the waterline, repairing the engine and making her sound and seaworthy.
"Next we will pretty her up," she says.
Also heading to the start line for the first time is Rawhiti, owned by Brent Shipman. Known also as Revenge, Rawhiti was launched in Whangarei in the 1960s. She is now owned by Shipman's company, Total Marine, and is still a working boat. The oldest tugboat expected to start is Bondi Belle. A regular Anniversary Day Tug Boat racer, she was built in the 1890s and has been lovingly restored by Ted Carter of Sandspit.
Other entrants are Ronaki, Pacific Way, Christine Mary, Manukau, Mahi, Olga, Felicitaire, Te Hauraki and, in a new division for traditional fishing vessels, Silver Spray.
The tugboats assemble off Princes Wharf at 8am and parade to North Head. Racing starts at 9am and the fleet will pass Narrow Neck Buoy and Salt Works Buoy before heading back through the shipping lane to finish off Devonport Wharf. Then they return to the Viaduct to perform a firefighting display (at around 10.30am) before parading through the Viaduct.
At about the same time, the classic yachts, the tall ships and the waka will make a spectacular sight as they sail from the start line just off Princes Wharf.
While hundreds of pleasure boaties are expected on the water to watch this, there are also good vantage points on land. These include Princes Wharf, Bastion Point, North Head, East Coast Bays, Tamaki Drive and Orakei Wharf.

Auckland Anniversary Regatta
8.30am: Tugboat Parade, Waitemata Harbour
9am: Tugboat Race, starts off North Head
9am: Waka Ama Race, Okahu Bay to Princes Wharf ?
9.30am: Dragon Boat Racing starts, Viaduct Harbour
10am: First Yacht Race, off Princes Wharf
10am: Radio-Controlled Yachts, Wattle Farm & Westhaven
10am: Centreboard Class Racing (starts from 10-12.30), Narrow Neck Beach Maraetai Sailing Club, Wakatere Boating Club, Kohimarama Yacht Club, Northcote Birkenhead Yacht Club, Tamaki Yacht Club
10.30am: Tugboat Firefighting Display & Parade, Viaduct Harbour
12pm: Harbour Challenge starts off Orakei Wharf
12.30pm: First yachts expected back at Princes Wharf
More information: ph 0800 REGATTA or www.regatta.org.nz.