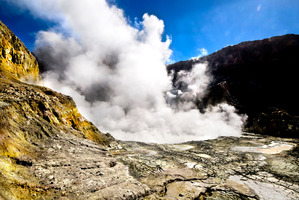 As White Island's volcanic rumblings continue, Civil Defence officials are reassuring Bay of Plenty residents there is unlikely to be any risk to the mainland.
Scientists monitoring the off-shore volcano say future eruptions are possible with little to no warning, prompting the aviation alert to be lifted from yellow to orange this week.
But exactly what the increased activity may lead to, or when further unrest may occur, remains unclear.
GNS volcanologist Brad Scott said there was no change in seismic activity today and scientists would continue to monitor White Island over the weekend.
The current episode of activity on New Zealand's most active volcano began in August last year, with explosions and ash emissions, followed by the appearance of a small lava dome in November.
The level of volcanic tremors has decreased, but the appearance of "hybrid volcanic earthquakes" indicates there could be movement of molten material within the volcano.
A flight over the island yesterday indicated volcanic gas levels were similar to those last month, and mud was continuing to geyser in the crater lake.
Bay of Plenty Civil Defence emergency management group controller Warwick Murray said the risk of an eruption meant there was an increased hazard to visitors to the island.
But he reassured residents on the mainland, 48km away, that there was little to worry about.
"There is little risk to the mainland from this seismic activity, but we understand that people are concerned."
Mr Murray said visitors to the island should be highly cautious.
"Hazards can include the health effects of volcanic gas exposure, respiratory issues, skin and eye sensitivity to acid gases," he said.
"If you are boating near the island throughout the long weekend, monitor marine channels for updates and exercise caution."
Mr Murray said scientists were not sure what could happen next.
Magma could flow underground with no change in surface activity, or there could be more explosive eruptions, ash emissions and dome-building activity like last year.
While the aviation code was lifted this week, the volcanic alert for White Island remains at level one of five, indicating signs of volcanic unrest.
- APNZ