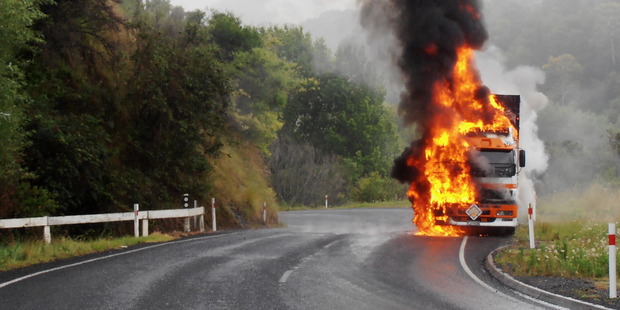 A driver died when his vehicle plunged 60 metres down a bank in northern Hawkes Bay, and another motorist had a lucky escape when he jumped out of his truck only minutes before it was destroyed by flames yesterday.
Police were alerted to the fatal crash, north of Wairoa, about 8am yesterday by a motorist who saw the car down the bank on State Highway 2 near Morere. It appeared the car had driven over the bank at the top of a passing lane on the highway.
Paramedics were winched down to confirm the 59-year-old driver had died and a tow truck removed the vehicle late yesterday morning.
He had been travelling towards Gisborne and it is not known why his vehicle left the road.
Senior Sergeant Maui Aben of Gisborne police said the man's body was found in the car. It was not known when the crash occurred, but it was understood the man's wife reported him missing on Thursday night.
The same car had earlier been reported driving erratically on the highway, Mr Aben said.
The dead man has not been named.
Meanwhile, a truck burst into flames on the northern face of the Devil's Elbow corner near Tutira about 1.30pm yesterday.
Two tankers and two pump trucks from Napier and Bay Forests Rural Fire Authority helped contain the blaze.
Pete Dawson was one of the first motorists on the scene.
He said he could see fire beneath the truck and the driver fleeing the cab with a bag of clothes.
"Within a minute the flames were licking up the back of the cab," he said.
"Within 60 seconds it got like that. It went up real quick. You could just hear flames falling on the bitumen road."
He said the driver told him he'd filled up with 400 litres of fuel back in Wairoa. It's also thought he was carrying about 13 tonnes of laminated beams.
Napier station officer Peter Draper said the crews wore breathing equipment when dealing with the fire. "I believe it was an oil leak, either from hydraulic hoses or an oil feed line that must have got on to the hot exhaust and ignited," he said.
A trailer attached to the truck was carrying an expensive John Deere tractor. It was saved, but the truck itself was destroyed.
"Our guys had to use a foam concentrate to extinguish it. It was quite an intense fire ... They haven't had a fire like it for a long, long time. The truck was completely gutted."
For more articles from this region, go to Hawkes Bay Today