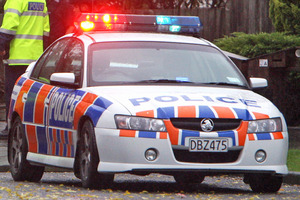 Police say a motorist was pursued by a trio of thugs - including a 14-year-old - through a busy intersection, bottle store and pub during a "prolonged" road rage attack on Wednesday night.
Officers allege that liquor bottles, both empty and full, and a bar stool were used as weapons in the attack.
The victim was driving on Mt Smart Rd, Onehunga, at 10.30pm when he was involved in a minor crash with another vehicle, driven by 33-year-old Mangere man Tevita Samieula Latukefu.
Two passengers were in the car with him, 18-year-old Edward Pole, also from Mangere, and a 14-year-old boy.
Seconds later, one of the occupants of Latukefu's car allegedly approached the victim in an "aggressive manner".
The victim tried to remove himself from the situation and drove to a well-lit carpark.
It is alleged Latukefu followed in his vehicle and then got out of the car with his passengers and tried to punch the victim, who tackled one of his attackers and ran to a nearby liquor store and then a bar seeking refuge.
Latukefu, Pole and the boy followed, allegedly armed with bottles, which they used to assault the fleeing man.
"The victim managed to escape his attackers and ran across the Royal Oak roundabout towards a local bar," Senior Sergeant Hirone Waretini said.
"The alleged offenders followed him and once inside, picked up a bar stool and threw it at him, allegedly hitting him in the face."
Latukefu returned to his car but Pole and the boy allegedly came back towards the bar armed with a stick and a rock.
One offender is alleged to have thrown a rock at the tavern and then thrown two bottles. Police arrived soon after and apprehended all three.
"Miraculously, the victim sustained only superficial injuries ... [He was] lucky to escape serious injury."
The owner of the bar, who did not want to be named, said the incident was "pretty random".
"Three shirtless guys came running into the bar. We thought they were all together and they were just fighting," he said.
"Once we worked out that one of them was being chased, we separated them."
The alleged offenders were "ejected" from the bar and the victim kept inside to protect him from further harm.
Latukefu and Pole appeared in the Auckland District Court yesterday.
Latukefu, who is unemployed, faces two charges of assault using a bottle as a weapon, two of intentional damage, and one each of assault, dangerous driving and driving with excess breath alcohol.
Pole is facing charges of assault, intentional damage and assault using a bottle as a weapon. Both men were remanded on bail.
The 14-year-old, who cannot be named because of his age, has been referred to Youth Aid.
- APNZ