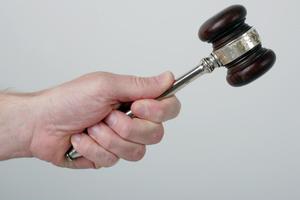 A Rotorua drug dealer described as the "go-to guy" has been convicted after his pig hunting code for methamphetamine was cracked by police.
Shannon Staveley, 31, pleaded guilty in the Rotorua District Court yesterday to nine charges relating to the supply of methamphetamine, cannabis and cannabis oil between January 1 and March 18, 2012. All except one charge, offering to supply cannabis oil on March 6, were representative meaning the offending happened more than once.
According to the police summary of facts, text messages on Staveley's phone revealed that on 76 separate occasions over the 11-week period he committed a drug dealing offence.
"The accused [Staveley] is best described as the "go-to guy' - he would arrange for illicit drugs to be supplied to his associates," the summary said.
Rotorua police had executed a search warrant at Staveley's Miller St house on March 12, where they found a large cannabis growing set-up and a bag of methamphetamine.
As a result he was charged with, and pleaded guilty to, cultivating cannabis and possession of methamphetamine.
Police then obtained a warrant to examine Staveley's mobile phone data pertaining to the dates between January 1 and March 18. They revealed a large number of deals made using a pig hunting code.
Under the code, methamphetamine was referred to as pork, one gram was a whole pig, 0.5g was half a pork, 0.25g was a leg of pork and 0.10g was a chop or sausages. A quarter of a gram, also sometimes referred to as a "queen size", would commonly sell for $250.
The police summary referred to Staveley as a "low level street dealer" - he supplied amounts ranging from 0.05g to 0.25g of methamphetamine. The police estimated the total supplied was a minimum of 3.21g.
It said Staveley would often not have methamphetamine in his possession but would receive a text message from an associate asking if he could source some.
He would then contact one of his two main suppliers and arrange it.
He and the prospective buyer would sometimes drive together to the supplier's location where the deal would take place. For brokering the deal Staveley would be allowed to consume some of the methamphetamine bought and would be given petrol money if he had to travel, according to the summary.
Staveley also sold and offered to sell cannabis from the plants he was growing.
On one occasion in January, he texted his mother telling her he would try to sell some cannabis to get some cigarettes for them. Police also identified nine occasions where he texted multiple associates asking if they wanted cannabis, the majority of which were declined.
When interviewed by police after his arrest, Staveley was co-operative and admitted the charges, saying his associates knew he could get good-quality methamphetamine and cannabis. He told police he had continued to supply until his August arrest and he "did not know how to stop it".
Staveley was remanded in custody for sentencing in Rotorua District Court on March 15.
For more articles from this region, go to Rotorua Daily Post