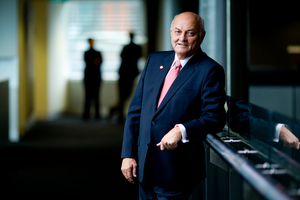 Some of the country's top academics, doctors and psychological experts have joined a panel set up by multi-millionaire Owen Glenn to address child abuse.
The names of 23 people from around the country - and from various fields - were announced last night. They will join 13 international experts in a panel dubbed the "Think Tank" for the Glen Inquiry.
The $5 million independent inquiry was launched by Sir Owen last September after he became alarmed at the continuing rise in cases of domestic violence. and particularly child abuse.
Among the Kiwis named in the panel are psychology experts Dr Mandy Morgan, Dr Neville Robertson, Dr Nicola Gavey and Dr Ian Lambie.
Kim Workman, an expert in restorative justice practices, is also in the panel as well as former news anchor now general manager of production at Maori Television, Carol Hirschfield.
Director of the inquiry, Ruth Herbert, said it was good to have a mixture of academics and people working at the frontline of communities - including general practitioners, social workers, advocacy and community leaders.
"Sir Owen Glenn has always been insistent that this would be the people's Inquiry and the make-up of our Think Tank will ensure that," she said.
Sir Owen said the inquiry was in no way a traditional one.
"It is very much about the people. It's about the people who have been affected, who work in this area and see it every day, about the views of interested parties," he said.
The selected group will meet with people who have been affected by child abuse; before providing a blueprint of solutions.
Sir Owen said coming up with a set of solutions - rather than further analysing the issue - was something new.
At the time of the launch, he said it was something he was passionate about and he hoped the outcome of such an inquiry would be helpful not only to New Zealand but to other countries.
"This inquiry will not be limited to examining the problem and making recommendations for other to consider - it will produce an evidence-based blueprint for the future. A model, if adopted, could set New Zealand as a world leader in addressing child abuse and domestic violence."