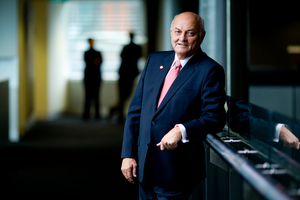 Dame Catherine Tizard and Carol Hirschfeld are among 24 experts who will make up the panel for Sir Owen Glenn's international think-tank inquiry into child abuse and domestic violence.
Sir Owen, a businessman and philanthropist, initiated the 'People's Inquiry' last year - a multimillion dollar project to address domestic violence and child abuse in New Zealand.
Sir Owen aims to present the findings to the United Nations after they are delivered early next year.
"New Zealand has an appalling history in violence and child abuse," he said.
The inquiry will involve child abuse and domestic violence experts from Australia, the US, Canada and Uganda as well as the New Zealanders.
Sir Owen said he had been staggered by the number of experts who had come forward and shown interest in participating.
The experts include academics, educators and those working in international human rights.
The think-tank members will share their experiences of family violence and discuss links and possible causes over the next eight months.
Social Development Minister Paula Bennett said she supports Sir Own's inquiry.
"I'm looking forward to seeing the findings - I love that Sir Owen is talking to people on the frontline and those who have been the victims of abuse and neglect, I don't think you can do too much work in this area and if we can take something from it, that's fantastic," said Ms Bennett.
- APNZ