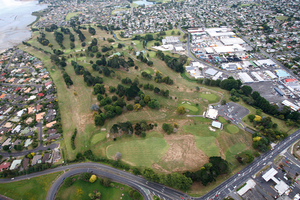 More than 700 members of one of Auckland's best-known golf clubs are upping sticks and moving south.
The Manukau Golf Club, off Great South Rd near the Southern Motorway at Manurewa, is shifting 8km away to Alfriston-Ardmore Rd near Ardmore Airport, after more than 80 per cent of members voted to leave their 45ha site.
Fletcher Residential is understood to be paying more than $40 million for the site, which could take 500 to 800 houses and is already zoned residential.
Men's club captain Colin Tilley said the offer to buy the new site had been accepted and financial reasons prompted the move.
"We, like many other clubs, were just managing to cover our operational costs, and then trying to service debt on top of that again was a bit over the top. There is a real buzz of excitement around the club now that the decision has been made."
The move is not due until September 2016 and general manager Stewart Halligan said all-weather covered driving bays, short game practice facilities, a stand-alone function centre and multi-purpose clubhouse were planned.
"It's doing something for our members, who are the priority, but it is also doing something that supports golf. The traditional membership model is broken. We've got to have additional revenue streams and we must also establish a pipeline to build membership," Mr Halligan said.
The new 6200m-long par-72 course on a 61ha site now used for potato production has been designed by Brett Thompson with consultant Phil Tataurangi. They did The Hills near Arrowtown and Christchurch's Clearwater. Mr Tilley said members would continue playing on the existing course, which would be maintained to its present level, until they left.
The club had considered staying at the site and looked at four or five other locations but the new area was projected to have 25 per cent population growth in the next seven to 10 years so was ideal. The new course would be Auckland's best golfing facility, he said.
Fletcher Residential general manager David Halsey said statements on the deal should come from the club, not him. Fletcher Residential is also building at Stonefields and Karaka Lakes.
Conifer Grove Residents Association chairman Jan van Wijk said people had enjoyed beautiful views across the greens for many years but this would all change once Fletcher moved in. Homeowners on Keywella Drive, Chippewa Place and Aristoy Close would be worst affected and concerns had been raised about traffic and congestion once the new places were built.
"I don't think everyone is thrilled about it but we can't object to it. If it comes up for consultation, we'll certainly make some noises, asking for decent quality housing,"
Mr van Wijk understood a 600- residence low-density development was planned.