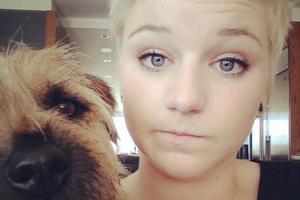 When Lydia Hollister-Jones met Caitlin Dickson, they were both 4 years old at kindergarten.
Lydia was wearing a rainbow T-shirt and Caitlin came up to her and said she liked it.
From that moment on, the girls were the best of friends.
But their friendship was cut short when Caitlin lost her life in a bus accident in Kenya last week. Bethlehem College parents Brian and Grace Johnston were also killed in the crash.
The trio were part of a 19-strong team from Bethlehem College that was on a volunteer mission to the Ark Quest School in the small village of Mahanga.
At Caitlin's funeral tomorrow Lydia, 18, will perform an original song she composed over the past few days.
"It's [a song] that I have written but I don't want to tell you too much about it because I wrote it for Caitlin and her family and I want them to be the first to hear it," she told the Bay of Plenty Times.
"It's about how wonderful and awesome Caitlin was and how much we love her and miss her and how she's up in heaven with Jesus watching over us."
When she heard Caitlin had died, Lydia knew she wanted to write a song for her friend. She has sung and played the guitar since she was 13.
"I've probably only been working on it for a couple of days. It was a real shock ... but it was something I really wanted to do for Caitlin.
"More than anything it's an honour for me to do this for her and her family," Lydia said.
Yesterday evening, the second group of students returned home to Tauranga from Kenya.
Principal Eoin Crosbie said the group had been looked after extremely well and were relieved to be home.
"It's a huge relief for this group and their families to have them home. And they're hurting more so, in terms of their injuries, but they've been looked after very well.
Five students, who were in the minibus when it crashed, remained in Nairobi Hospital although it was likely two would soon be discharged, he said.
Three of the students remained under medical observation, including Aneka Jones, who suffered a dislocated hip and fractured pelvis.
She has been joined in Kenya by her aunt and mother.
For more articles from this region, go to Bay of Plenty Times