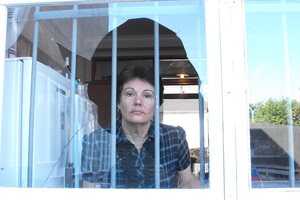 Two Wanganui charities have been left reeling after they were broken into over the weekend.
The Wanganui Foodbank was the target of what appeared to be an organised break-in, but all that was taken were some soft drinks and a few packets of noodles.
Manager Linda Taumoeanga said staff discovered a scene of destruction when they arrived at work yesterday morning. Windows had been smashed, shelves of food tipped over, and the floor was covered in broken glass and spilled drink.
A large rock was sitting under a broken window and straps were still attached to the bars on the windows in a failed attempt to remove them. A trail of food led away from the building and across the car park.
"This was planned, it wasn't just a random break-in," Mrs Taumoeanga said.
"It's pure vandalism."
Despite the mess, almost nothing was stolen.
"All they've taken is a couple of packets of noodles and some soft drinks, but the cost to us will be huge."
The foodbank has insurance but may not receive a payout because of the excess.
Mrs Taumoeanga has been manager for nearly two years and is getting sick of break-ins.
"There's probably been about 10 since I've been here - but this is the worst. We had a whole spate of them before Christmas, but they were quite minor."
She said she was at a loss about how to prevent them from happening.
"We have super-thick glass on the windows and bars but it keeps happening. And unfortunately, when they are damaged, that's even more expensive for us than fixing ordinary windows."
Mrs Taumoeanga emphasised that if people need food they can come to the foodbank and ask for it.
"It's very discouraging. We're here to help people but this sort of thing makes you wonder why you bother," she said.
Meanwhile, staff arriving for work at the City Mission Shop yesterday morning also discovered some weekend vandalism, with their windows being smashed.
But what annoyed coordinator Justin Mulligan the most was the rubbish dumped at the back of his shop.
An alley leads from the back of the shop to Drews Ave, and Mr Mulligan said a large amount of rubbish had been dumped in this alleyway, including old clothes, household rubbish and six mattresses - which are too wet and dirty to be salvaged.
"Unfortunately, all this stuff will have to be thrown out at our expense, and we don't have a lot of money," Mr Mulligan said.
"Quite frankly, it's a pain in the arse."
For more articles from this region, go to Wanganui Chronicle