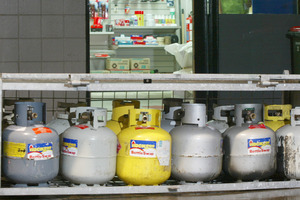 A man received burns to his arm and leg when the LPG cylinder he was attending to caught fire at the Glendhu Bay Lakeside Holiday Park in central Otago late yesterday morning.
The Christchurch man is understood to have been a member of a group of two families who were packing up their tents to return home.
Witnesses saw flames erupt from the cylinder as the man was disconnecting it.
Fellow campers helped him to a cold water tap and then to the lake to keep his burns cool until an ambulance from Wanaka, arrived.
Wanaka senior constable Mike Johnston said the man had disconnected the cylinder from a gas barbecue cooker and "when he disconnected it there was gas flowing from the container and not too far away from that was a gas operated fridge with a flame.
"That flame has actually ignited the escaped gas and it's caused a minor explosion."
Mr Johnston said other campers did a good thing when they put the man on a seat in the lake and submerged his burns.
He said it was fortunate the tents where the fire happened were canvas which was harder to ignite than nylon.
Nylon hiking tents would "go up in the blink of an eye".
It was also fortunate the fire happened where there was not a high density of tents.
Mr Johnston said the cylinder was properly certified.
"It's just for some reason the gas bottle wasn't turned off when [it] was turned off and that is still part of the investigation."
Camp manager Keith Waddell said the gas set fire to the surrounding area and clothes that were ready to be packed.
Mr Waddell said the park had firefighting hoses, not required in this case, it could have used to fight a fire involving tents or other property.
The park did not have the specialist foam equipment used by the fire brigade to cool LPG bottles that caught on fire.