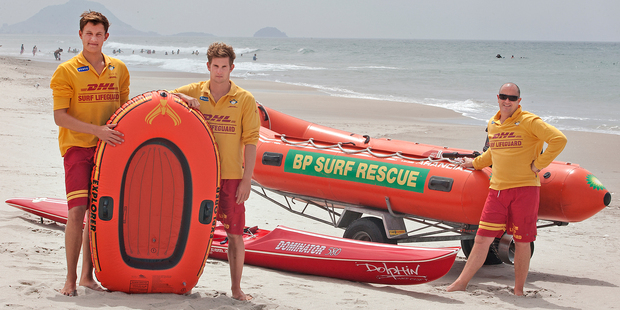 The rescue of two men swept out to sea in an inflatable dinghy has sparked a fresh call for people to wear lifejackets and leave inflatable toys in the swimming pool.
Papamoa Surf Lifesaving Club patrol captain Hamish Smith and lifeguard Sam Casey were on duty on Sunday when they received a call about two men in a small plastic raft being swept toward Motiti Island.
"There were two guys in an inflatable raft a kilometre out to sea. They were off Parton Rd," Mr Smith said.
The lifeguards jumped into an IRB and as they arrived at the Parton Rd section of beach, people waved out to them to direct them to where the men were last seen.
"We eventually found them. They drifted about 1.5km down the beach then out by about 1km off the beach. They only had two little plastic paddles, no lifejackets," Mr Casey said.
Both men were in their early 20s, one from Chile and the other from Argentina and were wearing only shorts and sunglasses. The inflatable boat was about 1m long.
"They didn't seem too stressed. They were laughing about it," Mr Casey said.
It was incredibly lucky the pair were spotted, he said.
"There's no way with those little paddles they would have made it in on their own. It was quite breezy that day too."
Mr Casey said lifeguards regularly encountered people at the beach with lilos and other inflatable, with airbeds being brought down at least once a fortnight.
Omanu senior lifeguard Allan Mundy said the two men had "no idea how much trouble they were in".
He rescued a man late last year who set out in an inflatable boat at Mount Maunganui's main beach but ended up 800m offshore from Rabbit Island.
"There's a rip at Banks Ave and he was right in it," Mr Mundy said.
"Because the craft was an inflatable and hadn't been blown up right, it had buckled in two and was taking on water. He had no lifejacket and we were going further and further out to sea because the winds were so strong."
The man claimed to be a lifeguard from California and had not read a label stating not to use the craft as a flotation device, Mr Mundy said.
The Omanu lifeguard managed to paddle them both back to shore.
Both incidents had left the experienced lifeguard nervous about people using flimsy water toys at sea without lifejackets.
"Save them for the pool," he said. "I don't like talking about fatalities but I've had four in the last two years and they would have survived if they had been wearing lifejackets.
If [these men] hadn't been spotted by a member of the public, they could have been lost," he said. "They were exceptionally lucky."
For more articles from this region, go to Bay of Plenty Times