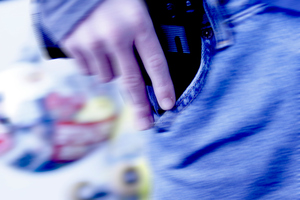 Two teenagers walking through suburban Onekawa in Napier on Saturday afternoon were told they would be shot if they did not hand over their cellphones.
The pair, a 16-year-old and a 17-year-old were confronted by a man about 5.30pm.
He kept one hand in his pocket, as if holding something, and told the boys he had a gun.
He threatened he would use it if they did not hand over their cellphones.
"Being confronted with threats like that left these boys pretty shaken," Detective Sergeant Emmet Lynch said.
"It's not good."
The boys handed over their phones, along with a Manly Sea Eagles cap one had been wearing.
They made their way home and raised the alarm.
Mr Lynch said detectives had been canvassing residents in the immediate area seeking sightings of the man, or anyone who may have witnessed the robbery.
Meanwhile, police have arrested two people in relation to a similar incident which happened in Napier south early on January 2.
A group of youths were robbed of their cellphones by two men who pulled up in a car about 1am, with one of them believed to have had a firearm.
The pair were arrested on January 12 and appeared in the Napier District Court on January 16 on charges of aggravated robbery. They were remanded in custody to reappear in Napier District Court on February 7.
For more articles from this region, go to Hawkes Bay Today