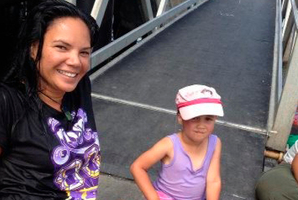 A stranger's speedy action saved the life of a toddler who slipped off the pontoon at Mangonui wharf in the Far North and "sank like a stone".
Paulette Lewis, from Kaitaia, didn't hesitate when the little girl toppled into the high tide about 3pm on Sunday. Miss Lewis plunged into the water and had to dive under several times before she could grab the child who was "just going down".
The child was unhurt and unfazed after the near tragedy but her rescuer is now on crutches, having gashed her foot on a sharp object on the pontoon's edge as she dived in.
Miss Lewis' aunt, Dawn Anderson, also from Kaitaia, said she had been watching four small children dabbling their feet over the edge of the pontoon. When three of the children went to another spot, the mother who had been watching them went to move with them.
Ms Anderson thinks that as the toddler stood up to follow them, she slipped on the rim of the pontoon. Ms Anderson didn't see the child fall but her niece did.
"I turned around and thought 'where's Paulette gone' and then saw her floundering in the water and diving under. Then I noticed the kiddie's hat just floating in the water, it was such an awful feeling. The mother came running and other people began to rush over," Ms Anderson said.
"That little girl hadn't made a sound as she went over, or splashed around or anything. She just went down like a stone, and it had happened in an instant."
A youth worker and keen sportswoman, Miss Lewis' key and cellphone were lost during the plunge but she refused an offer from the child's grateful father to give her his own phone as a replacement.
"It's a small price to pay for the life of a child," she told her aunt. "I'll sleep well tonight knowing that little girl is alive."
Miss Lewis had tried to grab the child as she toppled from the pontoon but couldn't reach her.
"Even though there were quite a few people about, no one else noticed her go into the water, it was so quick," Ms Anderson said. "It is just typical of Paulette to act so quickly without any thought for herself. She didn't hesitate for a second and I am so proud of her."
Had her niece not seen the toddler fall and acted so quickly, the search would have been for a small body that could have been swept away on the turning tide, Mr Anderson said.
Far North District Council communications manager Richard Edmondson said an inspection of the pontoon yesterday showed a rubber fender strip, about 300mm above the water, had peeled off, exposing the head of a coach screw. It would be repaired today.
For more articles from this region, go to Northern Advocate