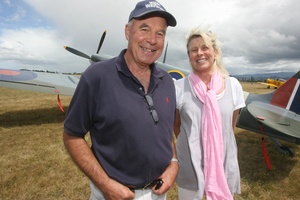 Up to 30,000 spectators shattered crowd records at the biennial Wings Over Wairarapa airshow in Masterton at the weekend, say organisers.
Bob Francis, Wings Over Wairarapa Community Trust chairman, said the mass of visitors had poured through the gates over the course of the airshow, which began on Friday with a practice day ahead of the two-day airshow involving 70 planes at Hood Aerodrome.
The cracking turnout of visitors to the biennial event had easily eclipsed attendance records since the first spectacle was rolled out on to the airfield in 1999, he said.
"It's certainly exceeded expectations and we're delighted.
"We had an enormous crowd on Saturday and another big crowd on Sunday. There's no question, this is the biggest airshow ever."
Accommodation and food outlets in Masterton and the wider region also reaped rewards from the soaring count of visitors at the weekend, he said.
He said organisers would be encouraging Destination Wairarapa to analyse over coming weeks the flow-on increase in regional trade from the airshow.
"The feedback we've been getting is that there's been a shortage of bottled water at least, and cafes, restaurants and food outlets right through Wairarapa have had a wonderful weekend.
"And, of course, accommodation has been booked out for a long time and with the long weekend there's been three days of accommodation."
He said visitors had also had the choice of catching other Wairarapa events at the weekend, including the New Zealand Jetsprint Champs at Tauherenikau and the Vans & Vines Rally Weekend Fundraiser in Martinborough.
Airshow director Tom Williams was delighted with visitor numbers and the weekend's perfect safety record.
"In terms of the numbers of people it would be the biggest yet and we do measure the success of the show in part by the numbers - it's biscuits in the tin really - but the measure of success for me is that we've been accident-free and visitors are returning home satisfied and happy," he said.
"We've had the view since we first began that we would follow [Warbirds Over] Wanaka and its development and success and we're pretty much on track for that."
John Lanham, jet formation team leader, said pilots completed a "very useful" practice day on Friday ahead of a fantastic day of flights on Saturday despite high winds late in the afternoon that kept a squadron of World War I aircraft on the ground.
He said organisers and pilots woke to heavy cloud cover and a drizzly morning yesterday that before noon had transformed to white cloud and blue skies to the horizon.
"Everything cleared to a stunning day that meant everything could fly - and while the pilots were getting inelegantly sweaty that little bit of cloud even helped to keep the spectators cool."
For more articles from this region, go to Wairarapa Times-Age