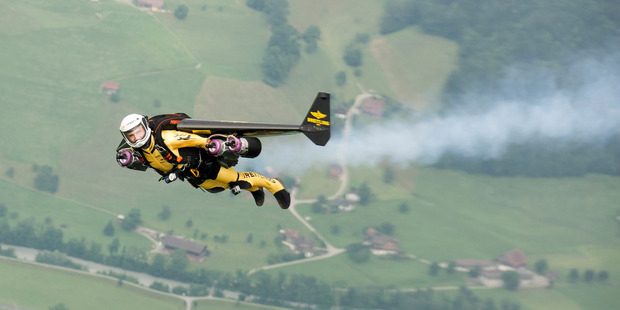 Jetman Ives Rossy touched down in New Zealand this week with a trick up his sleeve for spectators at next weekend's inaugural NZ International Air Show in Auckland.
The Swiss former fighter pilot flies by turning with his arms and arching his body while four engines in his suit burn kerosene. "You have no steering other than your body. I am the fuselage." He compares the experience to the sensation of "flying in a dream".
His tailor-made 60kg jet suit features the engines with 25kg of fuel and a small pair of wings. Rossy, 53, arrived in Auckland on Friday with champion skydiver and photographer Bruno Brokken and technical adviser Andre Bernet.
Next weekend, a camera mounted on his gear will give spectators a better view of the action before he joins a special episode of Campbell Live on January 28.
The trailblazer flew across the English Channel in 2008 and three years later he flew across the Grand Canyon after jumping from a helicopter flying at an altitude of 2500m - about the height of Mt Taranaki's summit.
Organisers of next weekend's event hope it will become an annual fixture, with 60,000 people expected.