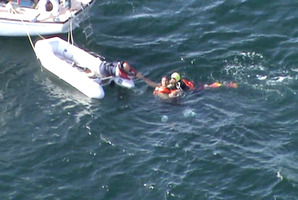 The search for a 13-year-old-boy who went missing after a boat capsized in the Hauraki Gulf is now a body recovery operation.
The Papakura boy and three family members went missing after their 12-foot runabout capsized within an hour of launching from Kawakawa Bay about 11am on Thursday.
Three men, two of them clinging to the capsized boat, were rescued yesterday morning.
Searchers continued looking for the 13-year-old boy but their efforts were called off about 3pm yesterday.
The boy is now presumed dead and police this morning said the search was now a body recovery operation.
Experts were working with police to analyse where the boy's body might be located.
The Navy has supplied Remis, a torpedo-like device which is programmed to swim unattended along the sea bed, which will undertake 3D scans and photography.
Police said the process could take up to five hours and the information would be downloaded once it was completed.
"It will identify if a body is on the sea bed and also its exact location. Police divers will then be called in to search the area and surrounding area."
A police boat was working alongside Remis.
The Westpac Rescue helicopter and Coastguard were both stood down from the search yesterday, partly due to the weather.
Police have expressed their disappointment that none of the survivors who were rescued yesterday were wearing life jackets.
Inspector Shawn Rutene yesterday said the 13-year-old boy was believed to have separated from the others sometime during the night.
"Indications tell us so far they were all huddled together on the boat, it was dark, it was pretty rough and at some point during the night or early morning the parties have separated," Mr Rutene said.
The boat capsized halfway between the Coromandel and Waiheke Island, which Mr Rutene said was "a place that you really don't want to be in the water".
Coastguard operations manager Ray Burge said the family should have checked the marine weather before they went out.
"A vessel that size with four people, probably not the best."
- APNZ