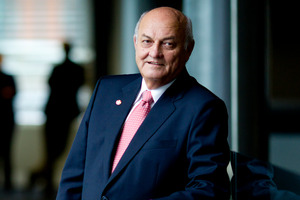 Sir Owen Glenn has challenged New Zealanders "with the means, energy, ideas and determination" to set up a non-partisan council to lead the country's economic revival.
The billionaire businessman and philanthropist, knighted in the New Year Honours, makes the proposal in an essay in today's issue of Career13, the Herald's annual survey of employment opportunities.
He is the first of three business figures selected to contribute to the series Why Isn't New Zealand Working? Two more essays will be published in Career13 editions on Wednesday and next Saturday.
Sir Owen, who has offered to chair the first meeting of his proposed council, asks: "Is 2013 going to be another one where we continue to go down the same paths we have in the past and wake up to the same headaches in 2014? Or is this the opportunity to make a resolution that the time has come for some serious thinking - and doing - in order to put new vigour and zeal into this country?"
He says the time has come for a "New Zealand Inc approach" to our economy and the governance of the country. He does not believe the country is in crisis, but "why wait for the worst-case scenario to unfold before action is taken?"
Sir Owen believes the structures and systems are in place to tackle any number of problems but bureaucracy and lack of co-ordinated leadership hamstring any meaningful headway.
"We continue to reinvent the wheel and think that the creation of new commissions, ministries and the like to tackle the big problems means things are getting done."
Part of the "NZ Inc" idea is also to have a long-term mandate and planning parameters that don't grind to a halt and change direction every three years. He argues New Zealand needs a sense of stability for planning and direction with a commitment from the country's leaders to work as one.
He is critical of the "leadership dearth" in the Beehive and the "B3 Syndrome"- selling businesses for the boat, bach and Beamer.
- Staff reporter

Get involved
Do you want to be part of Sir Owen's initiative? Email newsdesk@nzherald.co.nz.