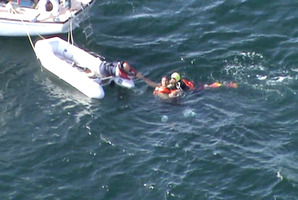 The Papakura cousins that set out fishing on Thursday morning were not wearing life jackets when their 4m runabout capsized in the Firth of Thames, between Coromandel and Waiheke Island.
By the time two survivors were seen clinging to the upturned hull yesterday morning they had been in the water 20 hours. A third was found nearby struggling to stay afloat.
A 13-year-old boy is still missing while his three family members are in a stable condition in hospital - and frustrated police are pleading with people to take basic safety precautions.
The boy and the others, two in their 20s and one in his late 30s, clung to the boat in the dark but somehow the teenager drifted away in the night. His family were aware he was gone but were unable to do anything.
Sergeant Graham Jex of the police maritime unit said there were lifejackets on board - but not worn - and the group didn't have a VHF radio but cellphones, which proved useless when they went into the water.
"It's one of those hard things. We're trying to get the message across to the people out there that do go boating. We've had several incidents recently [where] lives would have been saved if they had a life jacket on and that's the bare minimum. You think, what's a life worth?"
Mr Jex said it was a tragedy. "We don't like these sort of things, it's not nice trying to pick bodies out of the water."
The boat, called Ocean's One, left from Kawakawa Bay about 11am and within half an hour it capsized. Exactly what happened was still unclear but Mr Jex said it was possible one of them fell overboard and the boat capsized as the others scrambled to help.
Two of the men were seen clinging to the upturned hull by a member of the public on a passing yacht who rescued one of them and left the other in his tender. He was then winched to safety by the Auckland Westpac Rescue Helicopter.
Crewman Tinny Cannell told the Weekend Herald it was while that rescue was happening the pilot saw movement out the corner of his eye.
About 500m away a man was almost completely underwater, but waving frantically at the chopper. "He was pretty much on his last legs ... I don't think he would have lasted much longer."
Mr Cannell said the survivors were in a bad condition and could hardly speak. "They were upset, exhausted and could only say a few words per breath - nothing too intelligible."
Sea temperatures were about 20C but the conditions in the Hauraki Gulf were choppy.
Maritime New Zealand Deputy Director Lindsay Sturt said yesterday's incident contrasted to two others last week, near Kaikoura and the Taieri River in Otago, where lifejackets saved the lives of people.
The search for the 13-year-old will resume this morning.