Using sex to sell an unrelated product is not acceptable, watchdog tells new burger chain Carl's Jr.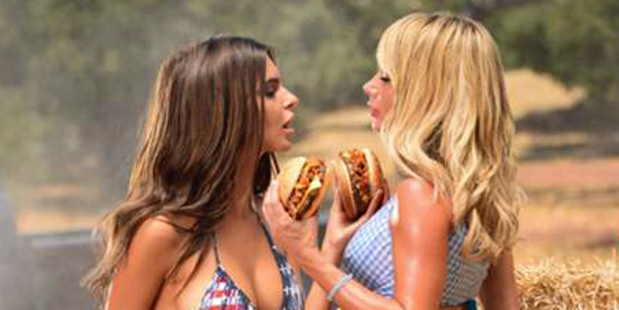 A raunchy advertisement for the Carl's Jr burger chain has been banned from New Zealand television in a rare decision which a fast-food business operator has blasted as "puritanical".
The American-made commercial for the Memphis BBQ Burger - which features two young women in bikini tops and short shorts grilling and chomping on burgers - has previously aired in the United States and Mexico.
Carl's Jr's marketing targets "hungry young men" and invariably uses risque content to capture the attention of its intended audience.
The Commercial Approvals Bureau (CAB), a body owned by the local TV networks which must approve advertisements before they air on New Zealand television, ruled the advert could not screen because it used sexual appeal in an exploitative and degrading manner as well as using sex to sell an unrelated product.
CAB general manager Rob Hoar said his organisation's role was to ensure, on behalf of broadcasters, that advertising complied with codes of conduct set by the Advertising Standards Authority.
"In our opinion this ad breaches the code and we're obviously protecting the interests of the broadcasters," Mr Hoar said, adding that the bureau rarely ruled that advertisements could not be aired.
He said a precedent had been set in 2007 when the Advertising Standards Authority upheld complaints against Burger King for television adverts that featured bikini-clad women riding horses.
Carl's Jr is operated in New Zealand by two separate firms that share advertising expenses - publicly listed Restaurant Brands and Forsgren NZ, a company part-owned by former All Black Michael Jones.
Restaurant Brands chief executive Russel Creedy said the CAB's decision was puritanical and an example of a "nanny state" mentality.
"(The ad) is nothing different to what you see on free-to-air TV shows," said Mr Creedy, whose company plans eventually to operate around 60 Carl's Jr sites nationwide.
Mr Jones, a Christian famous for refusing to don the All Black jersey on Sundays, said he had not seen the advertisement but if it was overtly provocative and "crossed the line", his family would not be happy with it.
National Council of Women vice-president Rae Duff said the advertisement was disgraceful and she applauded the ruling.
"The overt sexual innuendo and stereotyping in this advertisement leads to an unhealthy focus on body image which encourages women and girls to regard their sexuality and size as key defining elements of their identity," she said.
Mr Creedy said Restaurant Brands would be forced to rely on social media websites such as Facebook if the burger chain's style of advertising could not air on New Zealand television.
* Watch the controversial ad here.