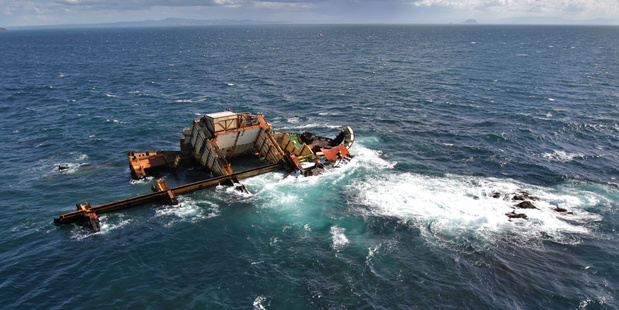 A Bay of Plenty iwi organisation's dive trip to the Astrolabe Reef - the site of the Rena wreck - has been delayed at the behest of the ship's owners and insurers.
Te Arawa ki Tai forum spokeswoman Pia Bennett said the group is angry that the dive tomorrow was cancelled despite gaining permission from the regional council.
However, Hugo Shanahan, a spokesman for owner Daina Shipping Company and insurer The Swedish Club, said safety concerns mean the dive component of the trip has been delayed, not cancelled altogether.
For the last two months the forum had worked with the salvors, Resolve Salvage & Fire, to plan the visit where iwi divers could assess the mauri or wellbeing of the reef for a cultural impacts assessment, Ms Bennett said.
That assessment might be used in any future potential Environment Court action if a resource consent was sought to leave part of the wrecked ship on the reef.
On Wednesday afternoon Ms Bennett says she was blindsided by representatives for the owners and insurers who raised a number of concerns at a meeting.
They said a karakia could go ahead but not the dive until safety issues were sorted.
She is suspicious about the delay.
"The salvors have been very accommodating, their bosses are the ones who gave them the instructions to put a halt to things. My sense is they don't want us to see the big mess out there.
"It seems that the only assessment that they will allow is the one which they control."
Resolve project manager John Curley directed questions about whether he had greenlighted the dive to Mr Shanahan who said the Maritime Transport Act required the owners and insurers to place stringent health and safety protocols in place and that includes responsibility for access to the wreck during the recovery work.
"I just think there was a miscommunication, not just between the salvors and others but in terms of the way the process was followed. What I do know is that when this has all been resolved it will happen. The karakia is the first part of it. The dive impact assessment can be done later on," Mr Shanahan said.
"It will be frustrating but if they're working on Sunday it'll be nigh impossible to get down under the water. It's just far too dangerous."
An invitation would be extended to other iwi as well but a date is not set yet for the dive.
He said his clients hadn't made decisions on future options for the wreck.

Rena salvage so far
• 888.5 tonnes of material removed from bow section of Rena
• 256.2 tonnes from the debris field around the wreck