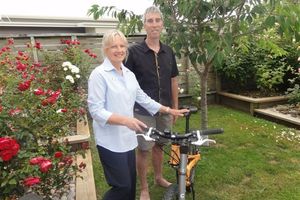 A cyclist who suffered life-threatening injuries after she and her husband were hit by a four wheel-drive eight months ago is back on a bike.
But Sirpa Lajunen of Taupo has traded in her road bike for a mountain bike and has no plans to ride on the open highway again.
The 50-year-old and her husband David Joyce, who were both keen road cyclists, shifted to Kinloch nearly four years ago after selling their Hawkes Bay cycle shop.
On the afternoon of Friday, May 25 the pair set out on a training ride for the Contact Lake Taupo Cycle Challenge in November, which Mrs Lajunen planned to do as a fun ride to mark her 50th birthday.
They were on Poihipi Rd in single file and to the left of the white line when they were hit from behind.
Mrs Lajunen suffered serious internal bleeding, five broken vertebrae, fractured ribs and a punctured lung. Ambulance staff rated her injuries as "class 1" - not expected to live.
"I remember opening my eyes and realising the wheel rim was round my head," she says.
"The bike was a mess and I remember seeing the distraught face of the driver leaning over me."
Although Mr Joyce's injuries - a fractured spine, injured shoulder and severe bruising - were not as serious, Mrs Lajunen said the trauma he suffered in the aftermath of the crash was huge. "It was terrible for him because he was so scared I was going to die."
The couple was airlifted to Waikato Hospital where Mrs Lajunen remained for three weeks.
She spent the next four months recuperating at home - strapped into a body brace and using a walking frame as she regained mobility.
Mrs Lajunen said the emotional impact of the crash hit her about four weeks after she returned to work as a practice nurse at a local surgery in September.
"I suddenly realised how bad it had been.
"For months when I drove on the road I was petrified if I saw a cyclist."
The long, drawn-out court case brought against the driver added to the stress.
After several adjournments, the case against 18-year-old Jordan Lee Dobbyn was settled in December, resulting in convictions on two charges of careless driving causing injury and another of driving on a licence that was revoked on medical grounds in 2010.
Mr Joyce, back on a road bike, completed November's Lake Taupo Cycle Challenge. A recent bout of back pain has slowed his progress but he hoped to regain full strength within the year.
Mrs Lajunen said their days of road cycling together may be over.
A new road bike she ordered before the crash was sold and she intended to stick to mountain biking on trails as her health improved.
"I don't feel angry any more.
"We are concentrating on putting it behind us and promoting safe cycling."
Cycling also runs in the family - the couple's son Sean, 21, an elite cyclist, took out the North Island keiran track championships in Te Awamutu recently.
He bikes competitively in Belgium and returns next month to take up a new contract with top amateur team Terra Shoes.
For more articles from this region, go to Rotorua Daily Post