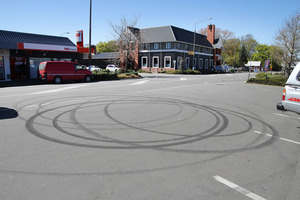 Courts remitted close to $90 million in fines last year, with boy racers benefiting the most.
Waikato experienced the most remittances at $6.1 million, half of which was completed wiped, imposing no alternative punishment.
About $2.4 million of this was substituted with community work, the rest constituting community detention, home detention and jail time, Fairfax reported.
About two-thirds of the remittances - $60 nationwide and $4.7 million in Waikato - were made up of speeding fines, driving a pink-stickered vehicle and for doing "burn-outs".
According to the figures, released under the Official Information Act, the number of remittances in the Waikato are up 50 per cent from $4m in 2009, Fairfax reported.
Police Association boss Greg O'Connor says the remittances are hindering police efforts to curb boy-racer behavior.
"I don't think judges realise it - it makes a bit of a joke of the system.
"These judges deliver stern warnings from the bench, but the next thing they're remitting fines. It's not all judges, just a few."
O'Connor said the boy-racer community was used to the system of letting fines build up until they were replaced with community work.
One boy racer had accrued about $18,000 in fines, which were then wiped in exchange for 180 hours' community work, averaging a rate of about $100 an hour.
"It's not the Average Joe who has got a fine that's going to get it remitted ... they'll be chased like hell to pay it," O'Connor said.
"It's the ones that thumb their nose and build up fines that'll have them remitted."
O'Connor said seizing offender's property would be more effective.
But Courts Minister Chester Borrows told Fairfax anyone who thought getting a fine remitted was an "easy out" was mistaken.
"People who cannot pay their fines do not get off the hook - they go to jail or do community work in lieu of those fines," he said.
Over the past five years the number of overdue fines had actually fallen from 58 per cent to 43 per cent, he said.
Reparations and fines owed had also dropped from $800 million in 2008/2009 to $575 million.
- nzherald.co.nz