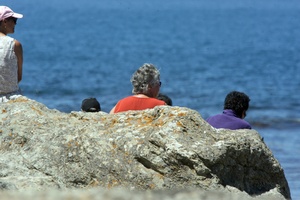 Relatives of a missing Martinborough man are yet to return home from a makeshift camp at the south Wairarapa bay where he went missing more than a week ago.
Tupara Kiel's sister-in-law Rita Bragger said yesterday about 15 relatives were still searching for any sign of 72-year-old Mr Kiel and remain camped at Sandy Bay, from where he took to a choppy sea in an inflatable boat to check his cray pots a week ago yesterday.
She said family, including Mr Kiel's wife, have combed about 40km of coastline every day since the abandonment of an official search on Sunday.
"We haven't found a sock or shoe, an oar or lifejacket of his but we're going to keep looking till we find him. We're not giving up." Mrs Bragger said.
"We're staying in a bus and we have vans and tarpaulins out here. The locals have made sure we've wanted for nothing over the past week.
We're staying hopeful. We have to or we'd go crazy."
Mrs Bragger said her brother-in-law was originally from Rotorua and had shifted to Wairarapa in the early 1960s.
The Ngati Kahungunu father of three, who was main speaker and kaumatua at Hau Ariki Marae in Martinborough, had launched from Sandy Bay with his dog named Ice Cream and about eight hours later his car and trailer were found empty.
A police dive squad and fishing boats joined in the search by an RNZAF Orion aircraft that scoured deeper waters off the coast from early Friday after high winds turned around a helicopter search.
Searchers failed to find Mr Kiel despite Ice Cream returning safely to shore and the discovery of his inflatable boat 68km off the coast.
Haami Te Whaiti, Ngati Hinewaka spokesman and kaitiaki, said a group of up to 30 people gathered for a ceremony to place a month-long rahui, or fishing ban, at Sandy Bay late on Wednesday.
For more articles from this region, go to Wairarapa Times-Age