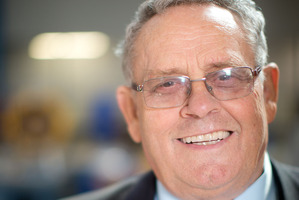 A plastic surgeon, an entrepreneur and an environmentalist have today been announced as the finalists for the Kiwibank New Zealander of the Year Awards.
The three finalists were chosen by a group of judges from a list of about 700 nominations.
The finalists are:
• Professor Swee Tan of Wellington, a plastic surgeon whose research into the origin of strawberry birthmarks has impacts on the treatment of cancer.
• Dame Anne Salmond, a writer, historian and environmentalist who is working to improve New Zealand's waterways for the benefit of society's health.
• Bill Buckley, an entrepreneur from Auckland whose company, Buckley Systems Ltd, prepares 90 per cent of the world's silicon chips.
They were chosen from 700 nominations in fields including the arts, sport, community, health, public service, the environment, tourism, business, rural, education, entertainment, science, and technology and culture.
Last year Weta Workshop head Sir Richard Taylor was named New Zealander of the Year.
This year's winner will be announced on February 28.
***
Countdown Senior New Zealander of the Year finalists:
• Marcia Read devoted over 35 years of her life to helping sufferers of Anxiety Disorders and their families. Founder of the Phobic Trust.
• Ian Grant established the Parenting Place helping to set parents up with tools to enable them to better raise and relate to their children, promoting the roles of fathers and encouraging positive male role-models for children to have in their lives.
• Dorothy Hopkin, is well-known in New Zealand musical circles and for well over 60 years she has contributed in areas of the arts and community.
Coca-Cola Amatil Young New Zealander of the Year finalist:
• Assil Russell, a 23-year-old dentist of Hamilton. She established and runs "Revive a Smile" programme, aimed at providing Hamilton's Homeless and disadvantaged people with free dental care. Assil established ICARE, New Zealand's first and only registered medical and dental charity for Iraqi orphans.
• Sophie Pascoe of Christchurch, a paralympic swimmer who recently won three gold and thee silver medals at the London Paralympics.
• Sam Judd of Auckland is passionate about educating the public about environmental, health, social and economic consequences of marine debris and is co-founder of Sustainable Coastlines.
Mitre 10 Community of the Year finalists:
• The Hawea Community, a small community of 3000 in the lakes area of Central Otago which has worked to improve infrastructure in response to growth.
• Grandparents Raising Grandchildren Trust, a nationwide group which has over 5,200 members and provides information, support, advice and advocacy for grandparents raising their grandchildren/kin on a full-time basis.
• The community of Uawa - Tolaga Bay, population 800, have completed some very important, ambitious and inspiring projects, including the Transit of Venus and raising $5.5m for the wharf restoration.
Kiwibank Local Heroes Awards finalists:
• Jade Temepara of Ashburton, established Hand Over a Hundy, an initiative giving families the funds, tools and education to grow their own vegetable gardens
• Jim Morunga of Napier, an advocate for guide dogs in the Maori & Pacific Island communities and a local community leader. A coordinator of the Kia Piki te Ora Suicide Prevention programme.
• Scott Gilmour of Auckland, pioneered and developed New Zealand's very first I Have a Dream programme in the low socio-economic community of Wesley, Mt Roskill, Auckland in 2003.
- APNZ