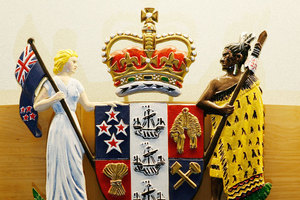 A Napier teenager has been sentenced to 100 hours' community work for accidentally shooting a 12-year-old boy with an air rifle at a Napier school last month.
Zaymon Arapeta Waihape, 17, pleaded guilty to three charges at the Napier District Court yesterday, including using an airgun without a licence and careless use of a firearm causing injury.
Waihape had been shooting targets with friends in the backyard of a Coventry Rd property on December 11 when a bullet went through a crack in the fence which bordered Tamatea Intermediate School and hit the 12-year-old.
The bullet entered the child's back, coming to rest millimetres from his kidney and had to be surgically removed.
Waihape's defence lawyer, Philip Jensen, said the incident was completely accidental and the group hadn't anticipated a bullet going through the fence, nor that there would be any school children next door as it was during the summer break.
While that was accepted by Judge Geoff Rea, he stressed that Waihape's actions were careless and ordered the destruction of the air rifle, as well as community work.
For more articles from this region, go to Hawkes Bay Today