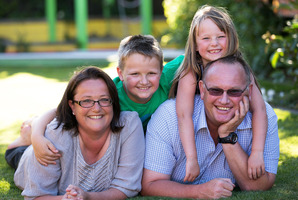 Stories making headlines across New Zealand at noon include a family who miraculously survived a tsunami and Paul Holmes formally becomes a Sir.
A new movie about the 2004 Indian Ocean tsunami has triggered harrowing memories for a Rolleston family who miraculously survived.
As Sir Paul Holmes prepares to be formally knighted this afternoon, here's a photo gallery recording his long career in broadcasting.
Despite the police patrol vehicle's windows being up on April Fools Day, they could smell cannabis wafting from a Tikipunga house as they drove past.
The Northland rescue helicopter crew was preparing to land with an emergency patient onboard when someone started shining a high-powered green laser light into the cockpit.
Here's a photo gallery of what a revitalised Daldy and Halsey streets in Auckland will look like.
Tauranga exterminator Duncan Kerr can't really explain why there are lots and lots of ants in Papamoa this year.
Fees at Wanganui Collegiate School are set to increase by more than 10 per cent.

A Dunedin woman was arrested last night after allegedly hitting an intruder with an axe.
There has apparently been some ''appalling'' aggravated alcohol abuse at Heffs Hotel.
A Hokitika motelier has urged the Westland District Council to stand its ground and not be "bullied" by a legal challenge to its freedom camping policy.
The top trending topics on Twitter in NZ at Noon include #confessionnight, #JaiBrooksFollowSpree, #ScooterBraunFollowJanoskians, New Zealand, #Laugh, #ttrttpt, #nowplaying, England, Golden Globes, #Chadwickfollowspree.
Other stories making headlines include:
Whangarei councillor wants Metservice to give official readings
Council brushes off Burger King worries
Mountains stay on eruption alert
Update: Teen impaled by post in highway bus smash
Large seizure of undersize paua
Record turnout for new Sir Paul Holmes

- Herald online