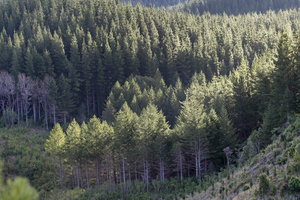 A coroner has recommended forestry workers use machines to pile up felled logs instead of doing it manually after a Hawkes Bay forestry worker was killed.
George Kingi Crawford, 44, was crushed between two logs while extracting radiata pine in Whareongaonga Forest, south of Gisborne, in June last year.
Mr Crawford was employed by Mana Logging Limited, which used a method of "bunching" logs, where felled trees are piled together.
In his finding, released yesterday, Hastings coroner Chris Devonport said the log that crushed Mr Crawford was in a pile of about 20 on a slope, which sat atop other debris and wood.
One of Mr Crawford's colleagues said he felt the pile moving and his leg being pressed against a log.
As he pulled his leg free he looked up and saw Mr Crawford with his arm outstretched and logs hitting him.
Staff rushed to his aid and extracted him from the log that was trapping him, began CPR, and called emergency services.
Mr Crawford could not be revived.
Then-Department of Labour inspector John Craig said the team's decision to remove logs from the lower section of the pile was a "critical failure".
Coroner Devonport made a recommendation to harvesting contractors, forestry owners and cable harvesting employers that they use mechanical grapples as the preferred method of log extraction rather than doing it manually.
He said if manual extraction was used then it should only be for logs bunched on flat ground that had been cleared of heavy debris, with bunch heights not to exceed two metres.
The coroner also recommended that consideration be given about the extraction, location and height restrictions of bunched logs.
His recommendations come as the forestry industry comes under fire, with calls for the Government to launch an inquiry into the industry's shocking accident rate.
Rotorua MP Todd McClay introduced the Government's new forestry sector safety code last month but said until the new code was adhered to, it was just a set of rules sitting in a bookcase.
Whakatane's Eramyha Eruera Pairama, 19, died on Friday afternoon after being struck by a tree near Taneatua.
Another forestry worker was airlifted to hospital yesterday morning after being hit by a falling branch while felling trees near Tarawera, on the Napier-Taupo Highway.
The 31-year-old worker suffered rib and shoulder injuries.
The Combined Trades Union (CTU) has also called for an inquiry.
"The year has barely started and we've had two serious accidents and a death in the most dangerous industry in New Zealand," CTU president Helen Kelly said on Monday.
"It's not viable for the Government to sit back and allow this type of safety record to go unchecked in our fourth biggest export industry."
- APNZ