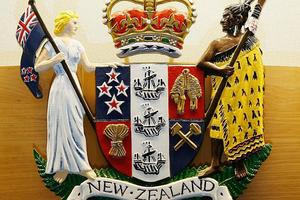 Two Whataroa brothers who attacked members of a group from Auckland University who had been conducting seismic tests on the Alpine Fault have been sentenced to community work.
They were yesterday each sentenced to 160 hours' community work.
Jeremy Andrew Nolan, 23, and Aaron Thomas Nolan, 20, vacated their not guilty pleas during a defended hearing in the Greymouth District Court yesterday and admitted charges of assault with a weapon.
The court heard that the visitors had completed their studies near Whataroa on April 7 last year and were to return to Auckland the following day.
They had partied with Whataroa residents, including the Nolans, at a house close to the hotel. Their leader, Matthew Hogg, left the party early and was in bed in the hotel when the others burst into the motel unit about midnight saying that they had been attacked. One had been hit on the head with a metal pole for an electric fence, brandished by Jeremy Nolan, and was bleeding profusely from an ear.
The Nolans and a third man, who had not been charged, were on the porch challenging the visitors to come out and fight.
While trying to establish why the factions were arguing, Mr Hogg was told the Nolans had decided to erect an electric fence around the pub and took exception to being told that it would be pulled down so the students could depart in the morning.
Jeremy Nolan thrust the pole into the ear of one man, while his brother tried to strike Hogg in the head with a wooden fence paling that shattered across Mr Hogg's arm as he raised it to deflect the blow. Mr Hogg was then punched about the head about five times.
The hearing was aborted yesterday when lawyer, George Linder, successfully sought to have the charges reduced from assault with intent to cause injury.
Mr Linder said Aaron Nolan had not been involved in the initial altercation and only joined in, in defence of his brother.
Judge Paul Kellar said an aggravating factor was that both brothers had attacked the victims' heads.
"You drank too much and behaved very badly. Fortunately, the consequences of your acts were not too severe... you could have killed someone. This was a serious offence and a short term of imprisonment could have been justified."
As well as being sentenced to community work, the pair were also ordered to pay $1300 in witness and travel expenses.