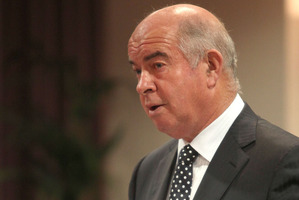 Top commercial lawyer Colin Carruthers QC has been convicted of drink driving after being caught at more than twice the legal blood alcohol limit.
The 68-year-old Wellington lawyer was disqualified from driving for six months and fined $800 when he appeared in Lower Hutt District Court last month, the court confirmed today.
Carruthers had been due to appear in court this week, having initially pleaded not guilty to a charge of drink driving.
However, he is understood to have then entered a guilty plea, and was sentenced by Judge Bruce Davidson on December 19 last year.
Judge Davidson also ordered him to pay more than $400 in costs relating to his blood alcohol test.
Carruthers was stopped by police on State Highway 2 in Upper Hutt in May last year, and later returned a blood test result of 190mg of alcohol per 100ml of blood.
The legal limit is 80mg per 100ml of blood.
Carruthers is an experienced lawyer who has represented the Crown in high-profile commercial cases, including the cases against Lombard Finance, Nathans Finance and South Canterbury Finance.
He also assisted commissioner Sir Ronald Davison during the Winebox inquiry into allegations of fraud and incompetence at the Serious Fraud Office and Inland Revenue.
Carruthers is married to journalist and former Act MP Deborah Coddington.
Law Society spokesman Geoff Adlam would not comment on a specific case, but said all lawyers had to declare any convictions when renewing their practicing certificate each year.
All lawyers were also required to comply with comprehensive conduct and client care rules, which outlined a range of minimum standards of behaviour.
Mr Adlam said the likes of drink driving matters could also be considered by a Law Society standards committee - either following a complaint, or through the committee's own investigation into the matter.
"A standards committee, what they would look at is what is acceptable behaviour for lawyers, and this might obviously be different from what the court considers."
- APNZ