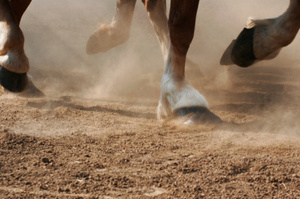 A group of horses were "on edge" before one kicked its owner in the head and killed her, a coroner has found.
In her finding released today, Coroner Carla na Nagara said Carla Lee Morgan's accidental death occurred when her horse, Fred, kicked her in the head.
Ms Morgan, 33, had been at a pony club event in Hawera on December 3, 2011 when she took a pony back to her paddock to graze with her other horses.
"On that afternoon all of the horses in the paddock were on edge as they were not sure of the pony that Mrs Morgan had brought with her."
Fred was more on edge than the other horses.
At one stage Fred and two other horses were quite upset and started running around.
"Mrs Morgan stood her ground and was talking to her horses and they seemed to calm down," Coroner na Nagara said.
But as Mrs Morgan took a pony across the paddock, Fred kicked out with his back legs and kicked another horse in the face.
Shortly afterwards, after the horses again had appeared to calm down, Mrs Morgan started taking Fred's cover off.
As she removed the back strap Fred kicked back with both legs, striking Mrs Morgan in the head.
"She stood there for a few seconds and then dropped to the ground," Coroner na Nagara said.
Mrs Morgan was taken to Hawera Hospital before being taken to Taranaki Base Hospital, but she died of significant head injuries shortly after arriving at the hospital.
Coroner na Nagara concluded Mrs Morgan did nothing to startle or unnerve the horse as she removed the cover and her death was the result of an accident.
- APNZ