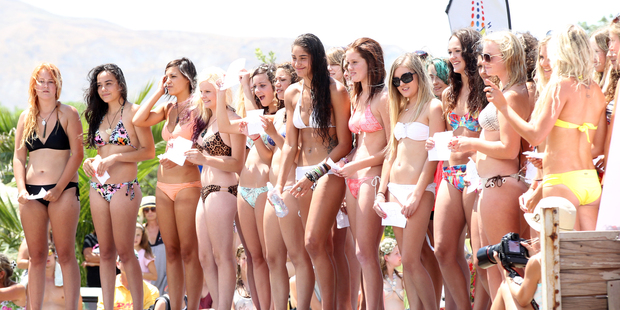 Stories making headlines across New Zealand at noon include a brainy woman winning a bikini contest, anguish for the crew of Euphoria and the last church in Blackball goes on the market.
You have to wear a bikini to win this contest but brains are also a big advantage as Zarae Davis found out. Here's a photo gallery of Hawke's Bay beauties at the beach. Bathing beauty competitions have been popular in Hawke's Bay for quite some time.
Meanwhile here's a video of lots of people in their swimming attire doing a flash mob at Splash Planet in Hastings.
In Tauranga, passengers aboard Tranquillity helped four men on Euphoria after it sank while anchored off Mauao.
Meanwhile many Rotorua people are angry about the long grass around the city.
There's apparently confusion, surprise and anger in Gisborne after what has been described as an "act of cultural vandalism and philistinism."
A tyre dump that is worrying Wanganui residents apparently belongs to a man linked to a Californian cold case murder.
Lots of people gathered in Masterton at the weekend for a car burn-out competition.
World champion cyclist Alison Shanks kept her husband-to-be waiting at the altar.
In Oamaru, three men allegedly stole a car and spent the night smashing into numerous parked vehicles around the town.
Meanwhile the last church in Blackball is up for sale.
Top trending topics on Twitter in NZ at Noon were: #NIXvWSW, #blackcaps, #Chadwickfollowspree, #LukeBrooksTwitcam, #SAvNZ, New Zealand, #laugh, Christchurch, Australia and Great.
Other stories making headlines across New Zealand this morning:
Green warrior finds calling on Rainbow
Patricia McGrath's tangi helps spread anti-violence message
Police name teen who died in forestry incident
Crash driver lucky to avoid serious injury
Moving to Hawke's Bay brings good luck
Featherston reeling after shop worker dies

- Herald online