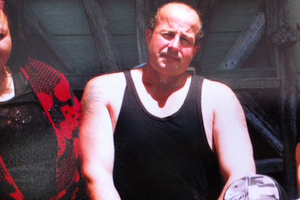 Members of the Featherston community are mourning the loss of Glen Jones, a 40-year-old supermarket worker who died after a violent assault at his home at the weekend.
South Wairarapa mayor Adrienne Staples, a customer at the Trust House-owned Four Square store in Featherston, said she knew Mr Jones well and had always found him to be a "nice, polite, friendly man".
Mrs Staples said it seemed unfair that he died a violent death and the town was reeling.
Featherston businessman and former district councillor Brian Adamson said Mr Jones lived within a stone's throw of his service station and was a customer.
"I saw him practically every day as he walked to work and he was a cheerful sort of guy who would give you a wave.
"His death has flattened the town, really."
Mr Jones lived alone in his flat on Fitzherbert St and was attacked early on Saturday morning. He died at 5am in Wellington Hospital.
Some in town called him a battler who had survived a childhood health set-back that apparently left him with a surgically implanted metal plate in his head.
They said it was testament to his character he had never traded on his health issues and had remained in work all his adult life.
Police arrested three people yesterday and charged them with aggravated burglary.
The two women, aged 32 and 22, and a 28-year-old man were to appear in Masterton District Court today.
Detective Inspector Sean Hansen said he anticipated further arrests to be made in coming days.
Preliminary results from a post-mortem examination confirmed Mr Jones died of head injuries.
Police were now appealing for any sightings of a white Holden commodore, registration GHE787.
The vehicle was in Masterton late on Friday night, before it was driven to Carterton and then on to Featherston.
Mr Hansen said it was believed that the car was near the scene around midnight before heading over the Rimutaka Hill Rd to Wellington.
It then returned to Masterton early yesterday morning.
The property where Mr Jones lived was a small motel-style boarding house. It was cordoned off for a forensic examination yesterday.
Police had also cordoned off a secondary crime scene in nearby Revans St.
Mr Hansen said it was not believed to be a random attack.
Read more: Police seek two more in fatal Featherston beating
For more articles from this region, go to Wairarapa Times-Age