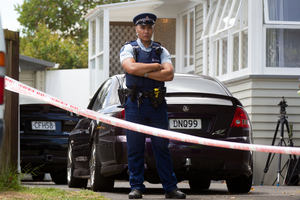 Shaun Townsley was lining up targets for his friends to shoot off a fence when one of them fired an airgun pellet into his body.
The 18-year-old and four friends had been drinking at Bettina Place, Manurewa, on Saturday when the fatal shot was fired about 8pm.
Police do not believe it was deliberate, but say it is too soon to know if charges will be laid.
A neighbour, Jahmana Marino, 27, told of the frantic attempts to keep Shaun alive.
The father of the host ran over asking who knew CPR. When she, her uncle and father followed him home they found Shaun lying on his back by the fence.
"He looked dead, his eyes were open but he looked dead," Ms Marino told the Herald.
They began CPR and "got him back" before the ambulance arrived. However, he appeared to be struggling to breathe.
His lips were blue and his eyes shocked the rescuers, who thought he was having a seizure.
Ms Marino asked what had happened and was told: "He got shot."
"They lifted his top up and saw the hole under by his rib. It was a little hole and when they were pumping him you could hear the air coming out of it. His mates were standing around pleading for him to be all right. They were saying, 'Please don't die, please my bro, don't die on me."'
Ms Marino was told the group had been shooting cans and bottles off the fence.
"Apparently he was lining the bottles or something and they told him to move and when they went to shoot it, he moved the wrong way - and that's how he got shot."
Police were called by the ambulance service, which rushed Shaun to Middlemore Hospital, but he died soon after arrival.
"They wouldn't say what happened but [another person] told me. They would only say there was a bang and he dropped to the ground."
The father of the host yesterday said he had been told not to comment by his lawyer. However, he and his children were traumatised.
He said they did their best to save Shaun. "You have to do whatever you can." Asked about the group who were at his house, he said: "You can't choose your children's friends."
His focus was now on hearing back from the police and "trying to get the family through this".
Detective Inspector Dave Lynch said: "The investigation will determine whether anyone will face charges."
Mr Lynch said airguns were powerful weapons that could kill or seriously injure and needed to be handled carefully - and not by anyone under the influence of alcohol.
"This tragedy should serve as a painful reminder that these weapons are not toys and need to be used in a controlled environment by responsible people with appropriate target awareness and knowledge of their power."