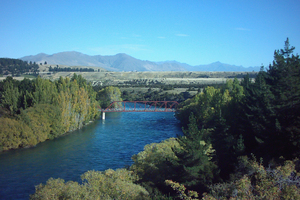 An extensive search of the Clutha River has failed to locate a teenager who disappeared while kneeboarding yesterday afternoon.
Blake Mckenzie Sinclair, 18, was being towed behind a jetski when he fell off and did not resurface about 3.30pm yesterday.
Police praised members of the public who helped in today's search, with volunteer numbers exceeding 100.
"The public support and willingness to help is greatly appreciated," a statement said.
"Family wish to express there immense gratitude to the volunteers that are supporting the search."
Efforts today were hampered by the high river level and poor visibility.
This morning, 13 jetboat teams and nine field teams were being sent along the Clutha River, downstream from the Waitahuna confluence.
A helicopter was also used.
The search will continue tomorrow with jetboat and field teams being deployed again.
Any offers of assistance with the search were asked to be directed to Balclutha police on 03 4184719.
- APNZ