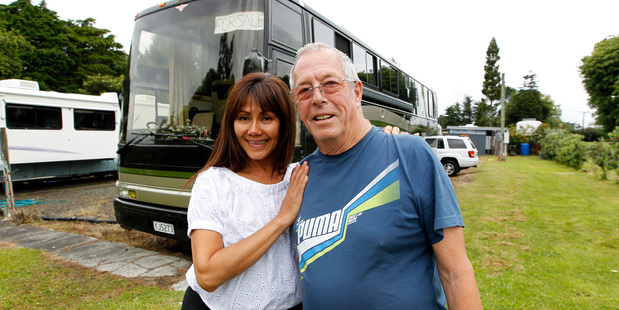 Clive and Georgia Tomkins have been living the ultimate camping holiday for the past seven years.
The West Auckland couple are part of a growing number of glamorous campers with all the comforts of home and the freedom of a car.
"We have been to some of the best spots in New Zealand, places you wouldn't think we would be able to go," Clive said.
"If the fish ain't biting, you can go to where they are."
Seven years ago, Clive was forced to sell his Whenuapai home to the Government to make way for a motorway. Instead of buying another home, he bought a 12m luxury tour bus and turned it into an apartment on wheels.
He spent $400,000 on the $40,000 bus and had it professionally kitted out with a full kitchen and laundry, granite bench tops, reclining armchairs and a full bathroom.
The retired couple have paid no rates and have not received an electricity or home phone bill since owning the motor home.
With solar panels, gas, batteries and a generator for back-up there is no issue powering the three flat-screen televisions, including one that pops out under the awning.
Despite the fun they have had in the motorhome the couple have it listed for sale on Trade Me so they can buy a house that doesn't move.
"After spending so much time on the road it is finally time to settle down," said Clive.
High-end motorhomes on Trade Me are listed for up to $800,000 and their popularity is growing, said campervan distributor Milton Kilgour.
Kilgour had just imported an American built luxury cabin Cedar Creek Cottage that could be transported but was more suited as a permanent camper.
"It could be treated as a luxury camp cabin, used as a bach or put on the back section for nana and pop."
The Cedar Creek Cottage will feature at the Campercare NZ Motorhome & Caravan Show in Hamilton on March 1-3 and retails for $125,000.