Father asks for details of fatal moments and jailed murderer's rehabilitation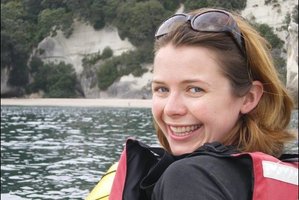 The father of a Scottish backpacker murdered in Taupo five years ago has written asking about the welfare of his daughter's teenage killer.
Brian Aim wrote to police to check on the progress of Jahche Broughton, who killed Karen Aim on the street with a baseball bat on January 18, 2008, in a crime that shocked Britain and New Zealand.
The 14-year-old was using the bat to smash windows at Taupo-nui-a-Tia College soon after 2am when Ms Aim walked by. Broughton followed the 26-year-old Orkney tourist and attacked her on a nearby street corner about 50m from her home, twice smashing the bat into her head.
He later admitted the murder but continued to claim the fatal blow was struck by Mongrel Mob prospect "Bryan" - a claim rejected by the judge. He was sentenced to life imprisonment with no chance of parole until at least 2021.
Mr Aim told the Weekend Herald that he and his family had always wanted Broughton to take responsibility for his crime and tell them honestly how his daughter died.
"We wanted to find out from the one person who knew what happened that night as to whether Karen was chased and terrified before she was murdered or was she murdered from behind and never knew the incident ever happened?"
Mr Aim tried to talk to Broughton after his sentencing but his mother, Eugenie Broughton, said he was not up to the pressure of a meeting.
He has since written to police to find out which prison Broughton is in, whether he is mixing with other prisoners and whether he is in rehabilitation programmes.
Police have replied and passed on the letter to Broughton, who is in the low-security Maori focus unit at Waikeria Prison, near Te Awamutu.
The 19-year-old has also received regular visits from the Rev John Howell, who conducted Karen Aim's memorial service and travelled to the Aims' church in Orkney to dedicate an artwork in Karen's memory.
On his first visit, Mr Howell showed Broughton a photo of the memorial sculpture by Taupo-nui-a-Tia College student Kate Bevan.
On the second visit, he said, Broughton began to talk to him about his traumatic life at the time he committed the murder, although he was still in denial about the crime itself.
Mr Howell said although it was tempting for society to write off Broughton and other young men like him as hopeless cases, they would probably be released some day, so it was vital to prepare for that.
He said public discussion about justice had been hijacked by the Sensible Sentencing Trust, which generated a climate of fear among the public and pushed politicians into taking more populist policies based purely on retribution.
"They're literally saying lock 'em up and thrown away the key ...
"There needs to be a priority on rehabilitation and ensuring that when (prisoners) return to society, they're not just going to go through the whole process again so they're a lifelong criminal - but rather they can re-enter society in some way and we can start to value them for what they can give to us."
Sensible Sentencing Trust head Garth McVicar said Mr Howell was speaking from the "liberal lunacy perspective" that had dominated public debate at the expense of victims' rights for too long.
"I'm all for rehabilitation, but ultimately when somebody commits a crime like that, then we believe they are beyond rehabilitation and the argument is no longer about them.
"It should be about the victims and it should be about stopping young offenders getting to that point."
Broughton's first victim, Zara Schofield, who was bashed so badly with a rock that she needed 30 stitches to her head, said she didn't know if he was capable of change.
"I personally think if he has done something at that age ... I doubt that a hell of a lot is going to change.
"He could turn his world around but there's a reason he went in there. There can't be a lot that's going to change his mind."
Five years after the attack, the 22-year-old chef said she still felt scared to go out. "There's still that feeling in the back of my mind and I don't think that's ever going to go away. It probably wouldn't be so bad if I knew he was never coming out."
Ms Schofield said the attack had turned her life upside down.
"It's hard to explain how he changed me but [he's] definitely done a lot of damage, that's for sure."
Eugenie Broughton, who visits her son in jail each month, said he was mentoring younger prisoners and wanted to help people.
Asked what she would like to say to the Aim family now, she replied: "There's no words that you can actually say for their loss, for what they're feeling. There's no words that can explain ... or bring her back."
She said only her son could respond to the Aim family's wish to know how Karen died.
"I could say sorry a thousand times but that's not going to heal them. And I don't think they want to hear that from me."
The Corrections Department refused to let Broughton be interviewed or give any information about his progress in prison.